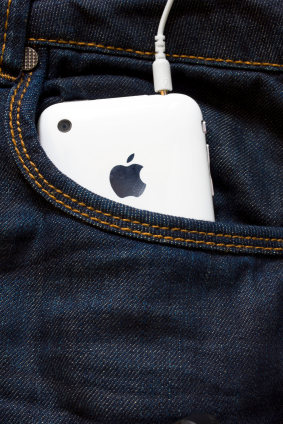 He begged his Mom for an iPhone, and finally received it on Christmas day… along with a very personal and detailed iPhone contract… written by his mom!
13-year-old Greg seems like any other middle school kid, but his mom, Janelle Hoffman isn't just any mom. She is teaching her son that owning a smart phone is a privilege, not a right. Perhaps this is a better option than just smashing our kids' phone!
Janelle was willing to give Greg an iPhone, but only if he agreed to their list of 18 conditions. Here's just a few:
1. It is my phone. I bought it. I pay for it. I am loaning it to you. Aren't I the greatest?

2. I will always know the password.

3. If it rings, answer it. It is a phone. Say hello, use your manners. Do not ever ignore a phone call if the screen reads "Mom" or "Dad". Not ever.

4. Hand the phone to one of your parents promptly at 7:30pm every school night & every weekend night at 9:00pm.
(you can see all 18 iPhone rules here)
ABC News interviewed the mother and son:
(what a great video to show a parents' small group and discuss)
So what about you?
Which of Janelle's rules did you like? Which ones would you probably not use? Why?
What rules do you have for your kids' phone use– maybe something Janelle missed?
How do these rules change as our kids get older? (like by age 17½ perhaps?)
IF YOU LIKED THIS ARTICLE…
CHECK OUT THESE ARTICLES FROM JONATHAN:
Consuming Music… (Do the Lyrics Affect Me?)
JONATHAN'S PARENTING BOOK OFFERS GREAT INSIGHT INTO HOW TO TALK TO TODAY'S KIDS ABOUT MAKING GOOD MEDIA CHOICES