"How far can I go?"
That's the most common question youth workers hear when they speak to Christian students about sex. Young people in the church have heard Bible verses about "fornication" or "sexual immorality." They've heard us teach that they're not supposed to go "all the way."
So how far can they go?
Funny. If we were teaching teenagers the explicit truth about sex… this wouldn't even be a question. Furthermore, if young people understood how sex truly works, they might just be a little more careful to not set themselves up for failure.
It's about time that we teach them that sex is more than just "a home run."
#3: More Than a Home Run
This week I've been blogging about the need to tell our kids the explicit truth about sex:
Now it's time for the third fact about sex that we just can't keep to ourselves! Sex is not just "a home run." It's so much more. (Hold onto your hats… there's no tip toeing through today's subject matter.)
I've probably heard it a thousand times:
 "I know we're not supposed to have sex. So instead, we just…"
Now fill in the blank with one of many various sexual activities. I've heard them all: make out, touch each other, have oral sex, have anal sex…
Shudder if you will, but adults don't seem to agree what "sex" is either. Is sex just "intercourse?" Most Christian adults will agree that oral sex and "petting" (an awkward term) are each some part of sex, but what about physical touch? A boy groping a girl's breasts over her shirt… is this sex? (You'll get a divided response every time.) Is this kind of touch appropriate for Christian teens and tweens?
Our kids want to know. And frankly, no one is talking about it (probably because it's so awkward).
No wonder our kids are confused. So many of us just teach, "Don't have sex!" We give them the I Corinthians 6 verses about sexual immorality being wrong, and we leave it at that. We never even define sexual immorality. Interpretation is left up to the pubescents with their screaming hormones and undeveloped brains.
Let me be clear. When Paul tells us to "flee" from sexual immorality in that passage, he's not just telling us, "don't have intercourse!" Sex is so much more than just "a home run." God created sex as a process that starts with a little flirting, usually kissing, consensual touching, and soon it grows with incredible momentum to "going all the way." Sex is the whole process. We can't skip the beginning stages. In the same way, we aren't supposed to start the beginning stages and then just abruptly halt the process. When we try this… we fail miserably!
Setting Them Up to… Set Themselves Up for Failure
The blame rests with us. It's our fault.
Young people today constantly set themselves up for failure because they simply don't understand sex. The biggest reason that Christian young people don't understand sex is because most Christian adults won't talk about sex in explicit detail.
I've talked with literally thousands of students about sex. Whenever I meet teen moms and listen to their story, 99% of the time they tell me, "I had questions, but no one was there to answer them." (I told two of these stories to you recently here.)
We need to teach our kids the unedited truth about sex.
God created sex as this amazing process that starts with a just a look. Guy notices girl, girl notices guy. Attraction. Eventually kissing. Kissing leads to embracing. Embracing leads to caressing. Caressing leads to skin-on-skin touch. This kind of touch eventually results in pleasuring each other by touching the breasts and genitals (some people are really feeling uncomfortable now). Sometimes this leads to oral sex…and eventually…intercourse.
Eew. There's that scientific word again.
It's amazing how many words, terms and analogies we've come up with to describe this process. Baseball is an analogy that was common when I grew up.
"Did you get to first base?" That was kissing.

"I went to second base." That was touching above the waist.

"Third base." Touching below the waist.

"Home Run!" Everyone agrees that this is "going all the way."
The interesting question I like to propose to young people is, "Which of these bases is sex?" Or "How many bases are you supposed to round with your boyfriend or girlfriend?" I've rarely met a young person who doesn't name a base.
Why Is It So Difficult to Stop?
Most students see sex as just intercourse. To them, sex is a "home run." Sex is "going all the way." To them, the other bases are fair game.
I always ask, "Then why is it so difficult to stop when you're on second base?"
The fact is, the whole process starts when a guy and girl begin kissing each other. That's the way God made it. It's actually a very amazing gift. We need to remember that this isn't something dirty we're talking about here. In fact, when kids ask me, "Why is it so difficult to stop?" I always surprise them with my answer:
"Because you're not supposed to stop!"
"Huh?"
God designed sex as a process. When a man and woman commit to each other in marriage, they get to enjoy an intimate act of passion with each other that is so special that it's reserved for just the two of them together, no one else. It's a bond between them…"a bond that happens to feel freaking amazing!!!!"  (Okay…you don't have to add that part.)
When a man gets alone with his wife and starts running his fingers through her hair and telling her she's beautiful…it starts! Kissing, embracing, touching…it all progresses. (Here comes the explicit details that Christians are afraid to talk about.) The man's penis gets hard, sometimes a result of a simple kiss, a nibble of the ear… a touch. Why? He's so excited, and he wants more! God made it this way. The more the woman is caressed and touched, her vagina becomes wet, preparing for what's about to happen. All this touching and caressing builds excitement, and soon neither can help themselves any longer. He longs to be inside her, and she longs for more. (Wow, this sounds like a harlequin novel!)
At this point I like to throw in a little surprise when I'm talking with young people about sex. I usually say this:
"And at this point, before they go 'all the way'…they both stop, shake hands and walk away."
Kids always just stare at me like I'm insane. So I go on.
"Nope. That's not what happens, is it? In actuality, it would take a tornado or a herd of buffalo to stop what was going on in that room between that man and that woman. And why?

"Because sex was already started. The process of sex started with a touch and a kiss and eventually built to this amazing climax when the two finally 'go all the way.'

"This is what sex is, the whole process. Not just 'going all the way.' More than just 'a home run.' The fact is, you shouldn't even go up to bat with someone you're not married to. This whole process is to be saved for marriage."
Students always appreciate my honestly.
Yes! I always get students asking me, "So you're saying that kissing is wrong?"
Again, the answer to that question is explicit. If I'm just talking to guys, I'll be explicit, but with a touch of humor to lighten the mood.
"Anthony, the answer to that is probably in your boxers. If you're at your grandma's birthday party and the whole family is gathered around the table. Your girlfriend gives you a kiss on the cheek when you bring her a piece of cake… then you're probably okay. But my guess is that if you're alone with your girlfriend on the couch making out, the process of sex has probably started. If 'Little Anthony' is standing at attention ready for battle, that's a good sign that the process has started. That's why it's a good idea for you not to kiss your girlfriend without your grandmother in the room. Little Anthony is scared of Grandma."
It's painfully obvious that this is one of the reasons that young people fail sexually. They put themselves in situations where they "start the sexual process" and then can't stop.
I love to have students talk about these type of situations that they put themselves in. I come up with hypotheticals.
"Your parents are gone and your boyfriend comes over to your house to 'study.' Good idea, or bad idea?"

"You and your girlfriend are alone, lying on the couch watching a movie. She's laying on you. Good, or bad idea?"
I ask them to reflect on past situations. When was it difficult for you to stop?
Sometimes there are kids there who haven't put themselves in those situations yet. It's good for them to hear the other kids share their stories and experiences. It's good for them to set some guidelines before they get into these situations.
It's funny. Whenever I teach this whole "sex is a process" to students, they always say, "I've never heard this before."
Why are we so afraid to tell young people this truth?
Tomorrow we're going to learn a 4th and final fact about sex that we just can't keep to ourselves…
* * *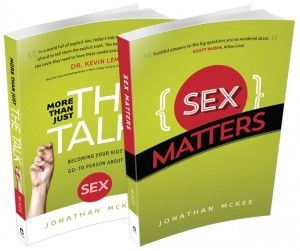 If you liked Jonathan's candid approach to this subject, you'll really enjoy his books, MORE THAN JUST THE TALK, and SEX MATTERS and others on Jonathan's Recommended Books page.