It's the number one app kids use, and it's the number one app parents ask me about at my parent workshops. I hear it all the time:
Is Snapchat bad?
Should I let my daughter use Snapchat?
Or more recently…
Is SnapMaps dangerous? Should I advise my daughter to go "Ghostmode"?
It's something I've written articles about in detail, and something I always devote time to when I'm addressing students directly about wise posting in an insecure world. So what do Mom and Dad need to know about this app, especially with its fun new feature called "SnapMaps" where your Snap friends can see your exact locations on a map at all times?
Here's a few points parents need to know about Snapchat:
The Innocent Side:
Many kids just use Snapchat like texting, but with pictures. It's a fun way to communicate. "Look at this delicious muffin!" "Why does my cat sleep like this?"
It's a fun way for parents to keep in touch with their kids' lives. When kids "friend" their parents, parents can not only communicate with their kids using this fun tool, but they can also follow their kids' stories and see daily glimpses of their lives.
The Risky Side:
The app condones irresponsibility. No, not every kid who has Snapchat is sending naked pictures to their boyfriends or girlfriends. Some kids use it quite innocently. But Snapchat was created by a college guy who walked into his friend's dorm room expressing regret after sending a picture and he basically said, "I wish there was an app to send disappearing pictures." In other words: I wish we could send whatever we want, but with no consequences. The rest is history. The app was created and marketed as, "the pictures disappear!" The problem: kids think they're safe and don't always think through the ramifications of hitting SEND. Thousands upon thousands of kids have Snapped something irresponsibly only to discover later that someone screenshotted it or that some tech nerd actually tapped into the device's cache to access the pics. That's probably why the FTC actually charged Snapchat for deceiving its users. Bottom line: the pics you Snap aren't quite as temporary as kids presume.
Snapmaps is really fun if you share your location with just a few trusted friends, but the feature can be dangerous if you don't choose your friends wisely. Open the app and pinch the screen and you can literally see all your friends' emojis on a map and know exactly where they are. "Cool, Chris and Jordon are together at the Starbucks across from the school!" But some kids haven't really thought through exactly who they've allowed to see these locations (Do you really trust every one of your Snap friends? Have you actually met them all face to face?), or they never took the time to check their settings. Whenever I address young people directly, I advise them to go to their Snapchat settings, click on "see my location" and either choose "Ghostmode" which keeps your location private, or choose custom settings and select exactly which friends can see your location, only choosing a few trusted friends.
The story feature offers some distracting influences. As fun as it is to see your best friends' story, headlines from Cosmo and Daily Mail are also littered across the screen. Even if your kids aren't interested in one of the Kardashian's "Nearly Nude Selfies" or "How to please your boyfriend in bed"…sometimes they're just curious enough to click.
Are your kids using good discernment with Snapchat?
Are you their Snap friend?
When's the last time you've had conversations about wise posting in an insecure world?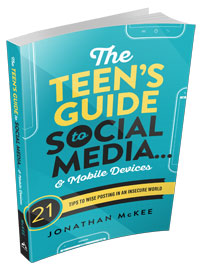 FOR EVEN MORE HELP ENGAGING YOUR KIDS IN CONVERSATION ABOUT THIS IMPORTANT SUBJECT, CONSIDER GIVING THEM JONATHAN'S NEW BOOK, THE TEENS GUIDE TO SOCIAL MEDIA AND MOBILE DEVICES: WISE POSTING IN AN INSECURE WORLD, WITH DISCUSSION QUESTIONS AT THE END OF EACH CHAPTER. JONATHAN DEVOTES AN ENTIRE CHAPTER TO SNAPCHAT.