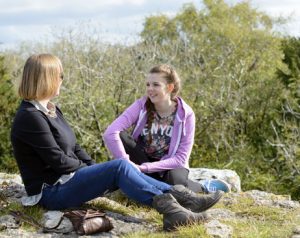 "What tools can I use to help new Christians understand the commitment they just made?"
It's one of the most common questions I hear from youth ministries who are actually reaching young people for Christ. And I'm glad to hear the question, because it means these ministries realize the need to walk alongside new believers and disciple them.
My friend Scott Rubin, the Director of Student Ministries at Willow Creek Community Church outside of Chicago, just wrote a helpful little resource called The Essential Guide to My New Life With Jesus. I just read it and felt compelled to tell you about it… for two reasons:
Scott is the real deal! He not only has been effectively reaching young people for the last two decades, he's a great dad, a caring friend, and those characteristics leak into everything he touches.
He knows how to disciple new believers like no one I know. Scott's ministry reaches literally thousands of teens each year, and a huge chunk of them are the type of kids who don't typically go to church. Scott's ministry not only introduces hundreds of kids to Jesus each year, he disciples them and walks alongside them as they learn about this new relationship with Jesus.
That's the kind of guy I want developing discipleship resources!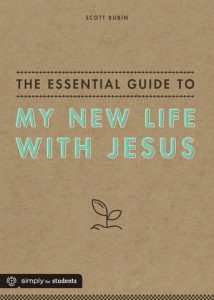 This book is really a one of a kind. It's what I'm going to recommend to ministries who are looking for material to disciple new believers.
Scott begins the book by congratulating the new believer, and telling them a little about their new relationship with Jesus. Scott uses words new believers understand (Scott speaks that language fluently) and even defines some Christianese terms that they'll hear. He doesn't waste time with anything peripheral… he cuts straight to the real and relevant questions new believers have.
Scott addresses:
It's a relationship, not a religion
How you can be sure you're a Christian
The importance of reading the Bible, and why
How to actually find Bible verses and "meditate" on scripture (and what that means)
What to do if you don't feel like reading the Bible
How to pray- pretty prayers aren't required
What to do if Jesus doesn't answer
Fessing up so God can obliterate our sins
Seeking mentors and other Christians
How to make new Christian friends, and reach out to old friends who still need Jesus
Answers to tough questions
Answers to churchy questions
Scott leads a new believer through all the essentials they need, in a format that's colorful, easy to read, and in small conquerable pages so you feel like you're reading a lot fast! (I think today's kids like that.)
One of the parts I enjoyed most about his book was how he urged the reader to surround themselves with Christian friends that will encourage them. He addresses this point with several examples, emphasizing that your faith isn't something you should do "solo." But then Scott shares stories of Jesus reaching sinners and encourages us to do the same (a tricky balance for many—having unsaved friends, but an inner circle of Christian friends). He says it like this:
"As you follow Jesus, you don't need to discard your non-Christian Friends. In fact, they need you to live like Jesus—and to point them toward his love for them. Instead of trading in your old friends, you can add some new Christian friends to your social circles. And your Christian friends can help you show Jesus' love to your non-Christian friends." (page 79)
This book is the perfect tool for discipling new believers. Personally, I would give my leaders each two copies, and encourage them to go through the book with a new believer, giving one copy to the young person, and meeting each week to talk about what you read.
I'll be adding this helpful book to the collection of discipleship resources I frequent!
What discipleship tools have worked well for you?