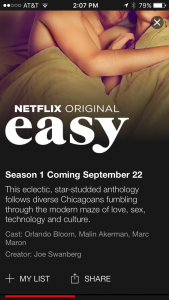 Today's young people love Netflix. It's mobile, it's commercial free, and as a bonus… most parents have no idea what their kids are watching.
That's why parents should probably be aware of the new sexually-charged Netflix original series, Easy, streaming on their devices starting today, September 22nd. The show follows (and I quote) "diverse Chicagoans fumbling through the modern maze of love, sex, technology and culture."
I'm not telling you to write your congressman and get the show banned. I'm just suggesting, in a world where 49% of 15-20-year-olds stream on demand content like Netflix daily, and 78% of "on their own Millennials" have subscriptions to these entertainment venues… it might be good to know what exactly it is they're watching, how we can use Netflix binging for bonding, and how to respond if we discover them watching mature or adult content (which is why I'm going to provide you with 3 ways to overreact react when this happens).
In the trailer we observe…
Several popular actors kids know (Dave Franco, lkajdfja from New Girl, Orlando Bloom)
Very explicit talk about specific sexual acts with words that automatically knocks this show well into an MA rating
Sexual images, women in underwear, people having various forms of sex…
References to a threesome, one night stands, sex in and out of marriage…
…and it looks really relevant and funny to a world where "two thirds of adults (65%) either strongly or somewhat agree that it's a good idea to live with one's significant other before getting married." (Barna, June 2016)
Here's a peek at the trailer on YouTube (deemed clean enough for YouTube, but I'll let you judge for yourself).
So how should Mom or Dad respond if they catch 13-year-old Chris streaming this on his iPhone tonight?
Here's my…
3 Ways to Overreact React if/when You Catch Your Kids Watching Sexually-Charged Entertainment:
1. Don't freak out
Most parents would love to know the secret to opening up the channels of communication in the home. Sadly, the exact opposite is easy to find. Because when Mom or Dad flips out, kids tend to clam up. The biggest reason our kids don't share with us is because they're scared we'll "freak out." So learn to count to 10… or in my case 1,000! Press pause. Tell them to put their phone on the kitchen table and go up and finish their homework so everyone has some time to think. Then…
2. Calmly ask them what they thought
Start by listening instead of lecturing. Ask them, "So what did you think of what you saw?" "What did you learn?" Many teenagers will try to just shrug their shoulders or say, "I dunno." Don't get upset or angry, just do your best to get them to share their thoughts. If they share something about a character in the show, ask them, "Do you think that was a good way to handle that situation?" "Is there something he/she could have done better?" End by asking, "What kind of attitudes or beliefs do you think young people might adopt from this?" "Do you think it's wise for you to watch it?"
3. Keep the door open
If they broke some house rules viewing this content, instead of laying out a harsh punishment, maybe ask them, "How do you think I should respond?" "How can I help you make wise decisions in this area of decision making?" Be less concerned about punishment and more concerned about them learning from the situation. Ask them if they'd like to dialogue more about it, or look at a book that provides some truthful answers on the subject. You can close by suggesting, "If you have the desire to watch something like this again, talk with me about it and let's dialogue about the wise thing to do."
Young people will always be curious about sex, and eventually they're going to look for answers. The question today's parents need to ask themselves is, "Where do I want my kids to find those answers?"
In a world full of explicit lies, today's parents have the opportunity to be a source of explicit truth.
Where does this conversation start for you today?