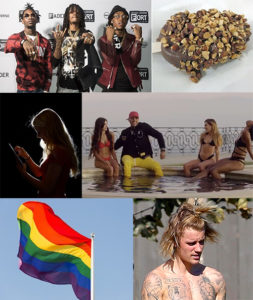 Here are the top 10 blog posts of mine that you guys trafficked in 2018.
The No 1 trafficked post by far was "Gunning Your Kids Down"… my expose on violence in current music (including songs about gunning people down that went No. 1 during the Vegas shooting).
2. Mom, Is Justin Bieber a Christian?
Like my popular post, "Mom, is Chance the Rapper a Christian?" (Which, interesting side note, did you see what Chance posted on Insta last month? Fascinating.) This post provides you with questions to not rant or judge Justin's imperfections, but dialogue about him in a helpful way.
3. 7 Facts Undercover Adults Discovered about Teenagers Today
This was a really interesting post about the A&E show Undercover High and seven realities they discovered about teen culture today!
4. Lil Dicky Gets a Lil Raunchy (and how parents should respond)
This post unveils what kids were seeing in this hit music video by Lil Dicky featuring Chris Brown and reveals how humor often reigns well in today's viral music videos.
5. The Math Behind 300 One-Night Stands
This post explores a song in the top 10 that made the claim, "Man, I had three hundred one-night stands"
6. The Newest on Teens, Social Media & Technology
This post examines the highlights from the newest Pew Research reports about teens, social media and technology, revealing exactly how many kids have phones today, are on social media, etc.
Our Annual Super Bowl party quiz
One of my personal favorite posts of 2018, my rant to Costco Food Court for taking away all the good stuff!
9. Confessions of an Overweight Youth Pastor
One of my top posts of 2018 was a guest post by youth pastor Josh Mitchell about how being overweight effected his personal life and ministry… and how he lost over 100 pounds!
Chiming in on a subject that many churches don't want to chime in on!