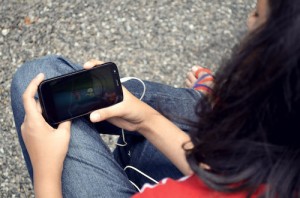 And how we can use Netflix to connect with our kids
It's funny how the proliferation of mobile devices is actually changing the way young people watch entertainment. One of the biggest changes is video streaming.
Think about it. At the turn of the Millennium, had you ever even heard the word "Netflix"? It wasn't until 2001 when the company's name began gaining recognition because Best Buy gave them exposure. You, like me, might remember them in the early 2000's as a unique way to "rent movies" through the mail. Then come 2007 they began their video streaming services…
…and entertainment changed.
Now if you walk through a college dorm and see a kid staring at their computer… chances are… it's Netflix. When 16-year-olds are supposed to be doing homework? Netflix. When government workers are sitting at their desk working… or supposed to be working… Netflix.
Netflix is THE go-to place for TV binging. Where else can you watch all the seasons of Friends, Parks and Rec… or those edgy series that kids really hope Mom and Dad don't know they're watching (Orange is the New Black, Hemlock Grove, American Horror Story…)?
Streaming video is gaining ground faster than you can say, "Cut the cable!" Nielsen just released a report revealing 49% of Gen Z (aged 15-20) and 48% of Gen Y/Millennials (aged 20-34) report streaming daily. Let that set in for a moment: basically half of young people at 15-34 watch video on demand (VOD) content (Netflix, Hulu, Amazon Prime…) each and every day!
In another report Nielsen noted that 78% of "on their own" Millennials have subscription based video on demand services like Netflix and Hulu.
But let me not mislead you—today's young people watch less TV than almost any other age group. Yes, you read that correct. Teens watch less TV than parents, who watch way less TV than grandparents. In addition, young people are actually watching a little more traditional TV than streaming (it's been this way for a while now). Netflix realizes this and is adding programming trying to target that Gen Z demographic. And streaming is gaining ground fast!
But just because teens are watching less TV than dad and grandpa, it doesn't mean they aren't clocking serious screen time. You probably remember our article last November breaking down said screen time each day. Out of the 8 hours 56 minutes of entertainment media teens soak in each day, TV was one of their favorites (first for tweens, second for teens). Music was the other top activity on their list (and timely enough, we just wrote another Youth Culture Window article this week about exactly what they're listening to).
The question you might be asking is (the same question we asked in that music article), how do we respond to our kids when they are supposedly wasting their life Netflix binging?!!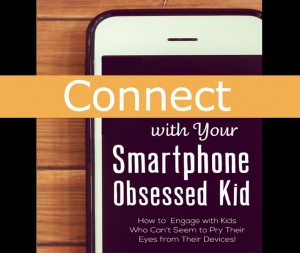 That's a question I'm specifically addressing this weekend in my brand new parenting workshop, Connecting with Your Smartphone Obsessed Kid, based off my book of similar title releasing this summer. In this workshop I help parents discover settings where their kids naturally look up from their phone and engage in conversation. The key to this approach is not barking at our kids, "Put that stupid phone away!" but instead, finding ways to engage in face-to-face conversation where media doesn't get in the way.
One of the peculiar examples I give is what I call Netflix Binge Bonding. I know! I know!!! Netflix almost seems paradoxical in this context. Why would we want to sit down with our kids and stare at a screen? How conversational is that?
Life is full of opportunities to bond with our kid. Some of these settings are very conversational (sitting in a hot tub, riding a tandem bike…). Some even have the bonus of occupying their hands so they aren't distracted by their phones (baking, hunting…). But sometimes life brings you opportunities to just "chill" and enjoy something together. Don't underestimate the power of walking up to your kid when they're staring at their iPad—and instead of saying, "Turn that thing off!"—innocently ask, "Watcha watching?" Follow that with a simple, "Can I join you? I've never seen Parks and Rec."
Believe it or not, your doctor recommends this. It's called co-viewing. It carries the double bonus of bonding, all while providing you a glimpse into your kids' world.
Will there be times where you might need to actually correct your kids and say, "Sorry… we aren't watching this." Absolutely. Just pray those times are rare (and here's a helpful approach to addressing inappropriate content).
Seize those opportunities where you don't need to rebuke or correct, instead you can just relax and connect.
In a world overflowing with streaming video, don't hesitate to use Netflix for connection.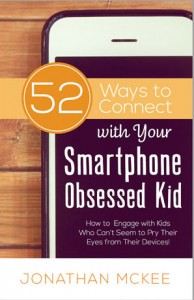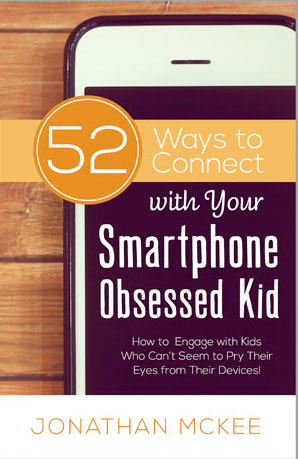 (I'll share even more of these fun connection settings in the coming months. After all, my book has 52 Ways to Connect with Your Smartphone Obsessed Kid.)