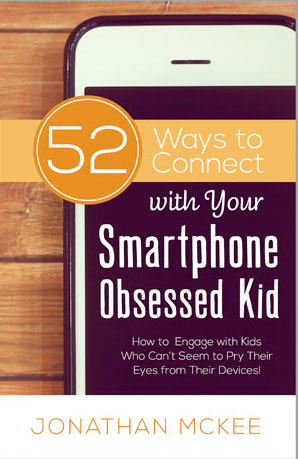 I'm putting the finishing touches on my new parenting book this month, and I'd love your help! I'll make it simple. If I use your idea, I'll send you a FREE copy when this book is released.
BONUS: Even if I do NOT use your idea, I'll randomly draw 3 names out of the comments below and send them a book! So don't hesitate to send your best idea.
Many of you remember the title of this upcoming book because you voted on the best cover in September (the cover on the right won, hands down). The book is titled, 52 Ways to Connect with Your Smartphone Obsessed Kid: How to Engage with Kids Who Can't Seem to Pry Their Eyes from Their Devices.
This book has been an intriguing project. I'm providing parents with tools to help them entice their kids to naturally set their phones aside and engage in rewarding face-to-face interaction. As you can imagine, this can be quite tricky, in a world where today's teens spend about 9 hours a day soaking in entertainment media and technology. So conjuring a kid to part with their device for even a few minutes can be about as easy as amputation!
So far, I've been filling the books with ideas like…
No tech at the table– the simple practice of making dinner a technology free zone, a pretty shrewd practice when the latest research reveals the sheer presence of a phone on the table changes the degree of connection people feel.
CoViewing– taking the advice of the American Academy of Pediatrics and actually watching TV, YouTube or Vine videos with your kids, mostly for the benefit of bonding with them as you get a peek into their world.
Pocketing Your Own Phone– living this instead of just preaching this. Helping your kids see they are truly a priority in your schedule.
Communication Environments– campfires, hot tubs, nail salons, hunting… I'm filling the books with examples of settings where face-to-face conversation flows naturally.
So think outside of the box. What have you experienced? What are you going to try? What ideas do you have that might help you or other parents connect with today's tech-obsessed kids?
Use the comment feature below and submit your ideas!
If I use your idea, you get a copy!
And I'll ALSO draw three names randomly and give them each a copy!