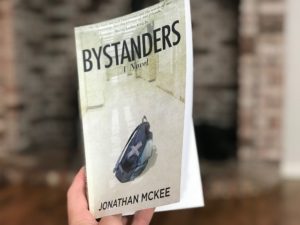 It's a sobering glimpse into a high school campus through the eyes of today's teenagers and it releases this month in print! (you know… real books with actual pages!)   🙂
This new piece of fiction is titled Bystanders, and I thought I'd give away the print version to the first 100 of my U.S. blog readers who would love to read it… with one condition: you read it.  (Sorry those outside the U.S., I love you, I honestly just can't afford the shipping. Buy the Kindle version!)

Seriously. And if you like it post about it! (literally a picture of the cover on Insta with your one sentence praise, or a Facebook post… whatever.)
It's my first fiction novel (although my Zombie Apocalypse Survival Guide sure had elements of one) and I'm using it as a tool to open up meaningful conversation about bullying, faith, hypocrisy, self esteem, etc.
The story focuses on three kids: Kari, Michael, and Brett… and one of them is pushed beyond the tipping point. The language is PG-13 and the conversations are very real (I've had over 100 youth workers and teens screen the book for me). Many of these situations are based off of real accounts. It's an eye-opening peek into bullying culture for youth workers and parents, and a great springboard for faith conversations with high school students.
If you're in the U.S. and you'd like a copy, I'll send you one free. Just follow these simple directions:
Hit me with a comment below saying your name, city and U.S. state, and why you want to read the book.
If you're one of the first 100 U.S. people to respond below, then I'll contact you and ask you for your address and mail this to you within the month.
And of the rest of you, you can grab the Kindle version today or keep watching for it to arrive on print (should be in the next month).
SIDE NOTE: If this topic of bullying interests you, stay tuned, because Focus on the Family is having me do a show with them November 1, the day my brand new book, The Bullying Breakthrough releases.