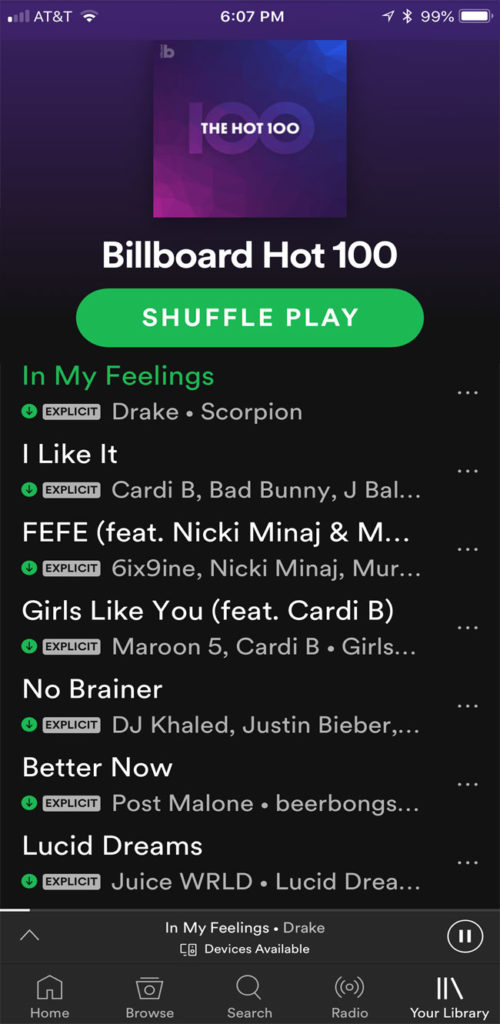 Popular music always has provided a few vile examples that made grandmother gasp…
But never like today.
We've come a long way from "Like a Virgin" being shocking. In fact we've come a long way from, "I Kissed a Girl." Sure we've seen some raunchy lyrics from top artists before… but never so potent at the top of the charts.
So far this month the Billboard Hot 100 has only one song that is not explicit in the top 10. And those that are… really push the envelope.
Drake's song, In My Feelings, currently at No. 1, is probably one of the cleaner songs in the charts… that is… if you ignore the sampling of Lil Wayne & Magnolia Shorty near the end of the song with the lyrics:
Bring that a*s, bring that a*s, bring that a*s back!
B-bring that a*s, bring that a*s, bring that a*s back!
Shawty say the nigga that she with can't hit
But shawty, I'ma hit it, hit it like I can't miss
Now let me see you
Clap that a*s, you're the only one I love
Clap that a*s, clap-clap that a*s!
This sampling (hip hop songs often "sample" or "mix" in earlier songs) is from Lollipop, Lil Wayne's 2008 hit about oral sex.
Does it seem incongruous that I'm citing a current song which is sampling a 10-year-old song to prove my point that music is getting worse? Yeah… it was pretty bad in 2008 too… but three big differences:
The top of the charts weren't quite as potent with descriptions of sexual acts or the casual references to gunning others down  (close, but not quite)
In 2008 teens didn't have smartphones in their pockets (the iPhone only came out in 2007), they didn't stream… Spotify wasn't even a thing. Explicit music had a few more guardrails than now. (Now 97% of U.S. teens have access to a smartphone.)
For the same reason I just mentioned, kids listened to less music in 2008 than now. In fact, America just upped their music listening by 47 minutes a day last year alone! (And adults just upped their daily media usage by 36 minutes in the last six months!)
So now when today's top hits are more sexually charged… more kids hear it.
Cardi B's song I Like it Like That, currently at No. 2 on the charts is actually pretty clean for Cardi B. Of course, you wouldn't know it because much of it is in Spanish. But for those who speak Spanish, they'll hear:
I like puerto rican girls, I like cuban girls
I like the columbian accent
How dominican girls move their a**es
How good venezuelan girls f**k…
As if that wasn't explicit enough, the current No. 3 song on the charts is from a guy named 6ix9ine who joined with Nicki Minaj for a song called Fefe, which apparently is a prison term for something manmade (often made from a toilet paper roll) that provides sexual fulfillment. In this song the young rapper makes it clear what he thinks of women, how he treats women, questioning why he even "hit that" (had sex with her) and giving us waaaaaaaaay more description than we want (Where's the #MeToo movement when you need it? Oh… I guess lyrics get a pass.)
Here's the opening lyrics from 6ix9ine:
P**sy got that wet, wet, got that drip, drip
Got that super soaker, hit that, she a Fefe
Her name Keke, she eat my d**k like it's free, free
I don't even know like "Why I did that?"
I don't even know like "Why I hit that?"
All I know is that I just can't wife that
Talk to her nice so she won't fight back
Turn around and hit it from the back, back, back
Bend her down then I make it clap, clap, clap
Nice.
And we haven't even left the top 3 songs. I'll let you Google the lyrics for the rest of the top 10. It's more of the same. (Funny… one year ago I wrote a post with the latest research on "do the lyrics really affect me?"… and I made the comment, "I've never seen the charts this bad.")
Remember the good ol' days when Katy Perry just told our kids to "go all the way tonight"?
Do you know what your kids are listening to?
Are you engaging them in meaningful discussion about what they hear?
Posted in Entertainment Media, Jonathan's Rant, Music, Parenting, Sexuality, Smartphones/Cell Phones, Youth Culture | Tags: billboard hot 100, Cardi B, drake, explicit lyrics, music discernment, Nick Minaj, teens | Leave A Comment