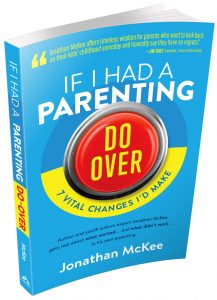 It's time! (I'm so excited!)
My publisher just emailed, and they've received my brand new book, If I Had a Parenting Do Over, fresh from the printer… and boxes are on their way to my house, my upcoming workshops, Amazon, LifeWay… and all the other book stores. (Many of you saw Jim Daly talking with me about this book on Focus on the Family's Facebook page just a few weeks ago).
And Amazon is literally crazy right now! "Crazy" in a good way.
Amazon changes prices all the time… so this could change before you even read this. But at this second… as I type this… they have my new book for the best you'll get it. Get this:
Both of those are slamming deals… way better than you'll get them from the stores. So trust me, I don't mind if you buy from Amazon. That helps me boost my status with them and all my books they sell.
But if you want to buy from me… here's what I'm doing:
Anyone who pre-orders the book from me… I'll personally autograph it. And those will ship next Wednesday, which is most definitely before Amazon will be sending out theirs.
Thanks for being one of my loyal readers! I've been getting so much good feedback about this book already (you can check out what people are already saying HERE). I can't wait to get it into the hands of parents.
Here's a closer look at the full cover: