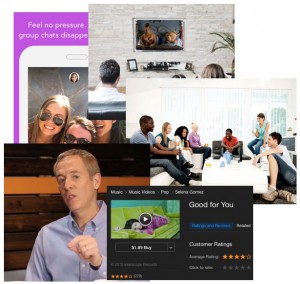 It's always fun to see what posts resonate with readers each year, as well as which ones draw traffic from the search engines (this 2011 post titled, "Dad, Can I Go to the Homecoming Dance" still draws significant traffic).
Looking back at 2015, here are the top 5 posts from my blog that drew the most traffic from my readers this year.
Click on each title to read the entire post:
From SnapChat to Tappy
Posted on January 20, 2015
It's called Tappy. It's the newest app acquired by Tinder, and the buzz is that it's Instagram meets Snapchat. The conversation begins with a photo, and then becomes chat. All messages disappear after 24 hours…
The Need for Super Bowl Conversations
Posted on February 1, 2015
The Super bowl is a distinctive television event. It's not unique to adults, and it's not exclusive to teenagers (a la MTV Video Music Awards). It's an event truly watched by the entire family…
PG Porn
Posted on August 4, 2015
Last week as I prepped to talk with parents about their kids' phones, I browsed through the music video charts and noticed some interesting trends, especially from some of the "child actresses" our daughters grew up recently watching on TV…
What youth ministry should look like
Posted on March 19, 2015
I walked into the small church Fellowship Hall in Richmond, VA and it was busting at the seams. 300-plus teenagers and about 70 leaders—better than a 1-to-5 ratio of adult to teen. Don't be intimidated by the numbers… be challenged by the ratio…
Andy Stanley on Parenting Middle Schoolers
Posted on June 30, 2015
I love Andy Stanley, and since my passion is to provide parents with good parenting tools… this video is a gold mine! The video is an interview with Andy Stanley about parenting middle schoolers– a great free piece to show as a parent training tool….
IF YOU'VE MISSED OUT ON SOME OF THESE… BE SURE TO SUBSRIBE TO THIS FREE BLOG HERE