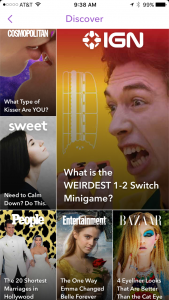 We've all been in the grocery store line at one time or another where we glanced to our peripheral only to see provocative images and headlines paraded across the front of a magazine cover. Of course, now these same periodicals offer online versions as well, clickable from frequented locations like Snapchat (the overwhelming favorite communication choice of young people today, by a landslide).
Do you think your kids ever peek at these?
I asked a handful of kids last week. "When you're browsing Snap stories and you see an interesting Cosmo or Daily Mail headline… do you click on it?"
Every kid I asked said yes.
Do you have any idea what your teens and tweens are reading? Continue reading "Porn in plain sight"