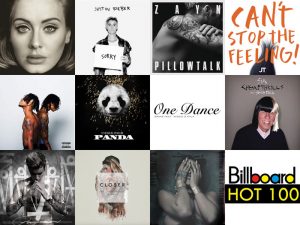 Every year-end we write a special Youth Culture Window article dissecting every Billboard No. 1 hit song of the year.
This year there were eleven No. 1's filled with break ups and hook ups, drugs and alcohol, sung by musical legends and unknown newbies. 2016's most popular songs were marked by tremendous diversity in theme, genre, and artists.
But when the music ended, what did our kids really hear?
Take a peek at our breakdown. We share lyrical excerpts, some links to online videos, and a brief discussion of the song's meaning to help you understand what elements were imparted to teenagers through the music.
Here it is!
The No. 1 Songs of 2016
What Impact Did They Make on Young Listeners?
Posted in Entertainment Media, Music, Youth Culture | Tags: adele, billboard hot 100, black beatles, closer, drake, justin bieber, panda, pillowtalk, rihanna, teenagers, the chainsmokers, Top music, top songs of 2016 | Leave A Comment