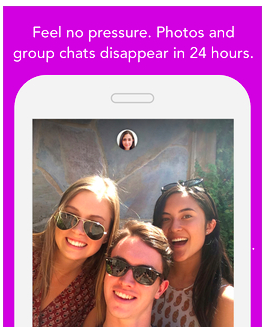 It's called Tappy. It's the newest app acquired by Tinder, and the buzz is that it's Instagram meets Snapchat.
The conversation begins with a photo, and then becomes chat. All messages disappear after 24 hours.
It's everything young people want: pics, social media, anonymity and of course… it's ephemeral. The first two elements aren't bad, but the latter two are where young people frequently get into trouble.
Let me explain.
Parents should beware of any app promoting a lack of accountability. Anonymity only breeds irresponsibility. If you don't believe me, look at the comment section of any YouTube video. People say the cruelest things under the guise of an avatar. You'll see the same thing in chatrooms—people speaking and acting out in ways they would never act in person. (Think of the way kids act out when they have a substitute teacher who doesn't know their name.)
Would you like even less responsibility? Promise that all content will all vanish in 24 hours. The ephemeral nature of apps like Tappy and Snapchat convince young people there are no consequences for their actions. They'll just "disappear." Who cares if you say something mean? It will disappear. Who cares if you post a revealing or inappropriate pic? It will "disappear." Of course, with Snapchat, we've learned that is not the case. Do young people think no one will ever click a screenshot on their Tappy posts?
Parents might also want to consider that Tappy is now owned by Tinder. I've talked about Tinder in previous articles about some of the dangerous apps young people enjoy. It's basically a visual e-harmony. You look at pics of people and if you like them, swipe right. If you don't, then swipe left. If two people swipe each other to the right, they are matched and the conversation begins, a relationship based on sexy pics.
Sound appealing?
Tinder sees 1.5 billion swipes per day.
It's another app where strangers begin conversations based on pics. This only increases the demand for young people to appear sexy when they post pictures of themselves. Yes, conversations could begin with a picture of your Schnauzer. I hope they do, in fact. But sadly, many will begin just like Tinder relationships—the proverbial high shot selfie showing plenty of cleavage.
Don't get me wrong. I don't think social media is evil. Parents need to look at each of these apps on a case-by-case basis. And any app encouraging chatting with strangers and "no accountability" aren't going to help anyone.
As for social media in general? It's a question I hear at every parent workshop I teach. "Do you think social media is a good thing?" My answer is always the same:
Social media a great supplement to existing relationships; it's a lousy replacement for relationships.
In other words: Instagram is a great way to share pics with existing friends and keep up with them, but it's a lousy substitute for face-to-face friends. Sadly, we're seeing a lot of the latter. Social media is actually making kids less social. So parents need to be proactive in coaching their kids how to be smarter than their smartphone and teach them how to keep social media safe.
Are you having these conversations?
Do you know what apps your kids are using?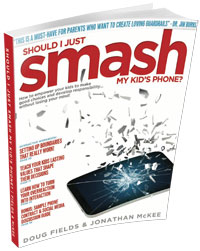 JONATHAN MCKEE AND DOUG FIELDS WROTE A WORKBOOK WITH SIX LESSONS HELPING YOU SET REALISTIC GUIDELINES FOR TODAY'S YOUNG PEOPLE. THE BOOK INCLUDES A "SOCIAL MEDIA GUIDE" AND A "SAMPLE PHONE CONTRACT." GET SHOULD I JUST SMASH MY KID'S PHONE? ON SALE HERE!