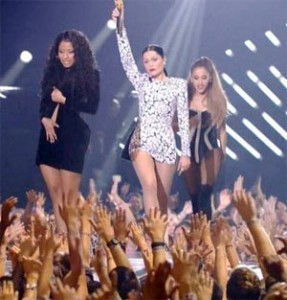 This last Sunday night MTV revealed something new about today's most popular music stars… they are mostly female.
It was an incontestable reality at MTV's VMAs this year. Ladies swept the awards. In fact they won almost every single award except Best Male Video.
So what are our daughters gleaning from these female role models?
The VMAs
Sadly, the entertainment industry is providing most of the role models for many young people today. And if you glimpse at a show as powerful as the MTV VMAs, a show that last year was cable's #1 entertainment telecast of 2013 among 12-34 year-olds, you'll discover who many of these role models are, and you'll garner a pretty accurate a sampling of their content and fashion choices.

In fact, if you had been secluded on a desert island for the last 20 years with no phone, Wi-Fi, or electricity… and now fancied a crash course on today's pop-youth-culture… I would tell you to simply watch the MTV Video Music Awards (the VMAs). Each year this show truly provides a sobering glimpse into the porthole of what teens see, hear, and emulate daily. (My good friend David R. Smith and I just finished our brand new Youth Culture Window article about that event, The Girls of the MTV VMAs. You can read that HERE.)
So, without rehashing what we just wrote in that YCW article, who are some of these key female role models in the limelight today?
Nicki Minaj, Beyonce, Taylor Swift, Iggy Azalea, Ariana Grande… they were all there, all have songs and videos at the top of the charts, and all are on our kids radar.
For the sake of this blog, let me just focus on Nicki Minaj. After all, she not only has just beat Michael Jackson out with more hits in the Billboard Hot 100, she was one of the most featured artists Sunday, performing literally three times (more than anyone else).
Nicki Minaj
I've blogged about Nicki before. Nicki kicked off the show this year with a performance of her new song Anaconda… a song bearing the title about a guy's penis.
This rap tells the story of her sexual encounters with a few boys, but also discusses her recreational drug use:
I'm high as hell, I only took a half of pill
I'm on some dumb sh*t…
The song goes on to talk about having sex with the guys that love her big butt:
He can tell I ain't missing no meals
Come through and f**k em in my automobile…
But it goes into more detail, talking specifically about each of their genitals:
This dude named Michael used to buy motorcycles
D**k bigger than a tower, I ain't talking about Eiffel
Real country ass nigga, let me play with his rifle
P**sy put his *ss to sleep, now he calling me NyQuil…
Like it or hate it, this song debuted at #19 on the Billboard charts, and is currently No. 5 on the iTunes charts. (You can read the entire lyrics to Anaconda here.)
Some people respect Nicki because she's a strong female figure who isn't afraid to carry a little extra weight on her backside. Nicki made that clear on Sunday night, twerking her backside, singing about it, and displaying it proudly in various revealing outfits.
Confident? Definitely.
Responsible? Principled? Decent? You'd have to watch her performance, singing the lyrics above and simulating sex with her dancers on stage.
What do you think the millions of teen and tween girls in the television and Internet audience will glean from Nicki's performance?
Is it any surprise that our daughters are slowly becoming sexualized by elements like this in our pop culture?
How can we teach our girls truth in a world so abundant with these lies?
JONATHAN HAS WRITTEN OVER A DOZEN BOOKS, INCLUDING GET YOUR TEENAGER TALKING, 10-MINUTE TALKS, AND THE GUY'S GUIDE TO GOD, GIRLS, AND THE PHONE IN YOUR POCKET