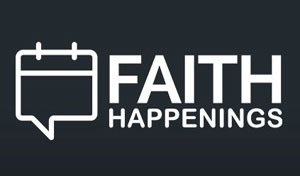 Finally… someone created an online hub for Christian happenings!
It's like this. Every time someone brings me out to their city to speak they always want to publicize their event, their training, or their conference… and depending on the city, some have some good "word of mouth" networks to get the word out… but most don't.
For years I've been commenting, "I wish their was one 'hub' where people could go to and see what events, resources, speakers, etc. were available in their own area."
It's finally here! And by a group I trust.

My friend Greg Johnson has pulled together a fantastic team of people and developed FaithHappenings.com (and you should jump on their today and sign up- it's FREE, of course).
Here's the official press release you may have already seen:
Finding just the right faith-enriching information can be a daunting task. How does one keep up with the latest books, blogs, and music? Find a church in a new area? Discover devotionals that resonate? Locate local serving opportunities? Choose a Christian school?
FaithHappenings.com, launching today, was created to fix that frustration. FaithHappenings.com is a free, online resource for Christians that contains an array of valuable, faith-based content all in one place. This powerful, complete directory is curated and customized to individuals' unique needs and locations. Site visitors may become members by completing a short survey in order to receive free, tailored emails about their interests.
The site offers a mix of national and local Christian resources including: devotionals for diverse interests; album, video and book releases; targeted, inspirational blogsby renowned Christian authors; concerts; events; serving opportunities; ministry support; a church database; education options and more. Over a year in development, FaithHappenings.com is comprehensive and accurate.