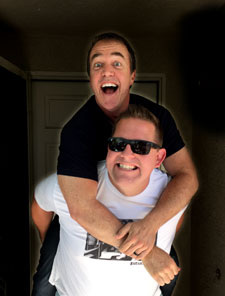 Effectively Resourcing Today's Youth Workers
An Interview with Doug Fields & Josh Griffin
Both Doug and Josh have served on the front lines of youth ministry for literally decades. They are two of the leading thought-leaders in our profession and know incredibly well what it takes to equip teams of volunteers with the tools they need to effectively reach today's young people with the life-changing message of Jesus Christ. I was excited to sit down with them recently to talk a little bit about serving youth workers and running my favorite youth ministry resource organization: DownloadYouthMinistry.com (DYM).

* Be sure to peek at the freebie they are giving away to my readers at the bottom of this post… no strings attached!
JONATHAN: What are some of the resources each of you found yourselves on the hunt for in your own ministries decades ago?
JOSH: When Doug started, way back during the middle of the Civil War, there weren't many youth ministry resources. In fact, he had to make most of them! That's why you see his name on the front of pretty much every youth ministry book since 1862.
JONATHAN: I think I have most of those.
DOUG: Sometimes Josh is mean—as you know Jonathan—"hurt people" tend to hurt people. But in a weird way, it has been amazing to see youth ministry resources grow so incredibly the past several years. That's some of the heart behind DYM, we didn't want to see incredible resources that really good youth workers create just sit and die on their hard drive. We have created a platform over the years and their ideas can sit on it so easily—and they're helping thousands of youth workers around the world.
JONATHAN: Doug, you were at Saddleback for a long time, Josh, you recently transitioned out of your role as the high school pastor after following Doug. That sort of legacy is unheard of and incredible! How has your ministry changed in the past few months?
JOSH: It was a privilege to work in the church for 20 years. I love church ministry, and I'll always be a part of it in some way. The past 12 years at Saddleback have been so good to my family and God moved in some amazing ways in our ministry. It was an honor to carry on Doug's leadership and legacy there. Blows my mind to have been a part of it! Now I'm concentrating on a new role to support the church – resources and training through Download Youth Ministry. I'm only 4 months into it full-time and already in love with it.
DOUG: Even while working in the church full-time, both Josh and I shared a deep love for youth workers and realized our calling to serve the youth pastors as well as our own congregation and students. That has just continued to grow and grow until now it is the dominant focus of our time and energy. We laugh a lot and have a blast working together. There's so much joy derived from helping other youth workers create great resources for youth workers. In the old days, there were just a couple of people who made resources, DYM changes that and now allows pretty much anyone who has good stuff to have a global platform.
JONATHAN: DownloadYouthMinistry.com is now the go-to place for affordable, current, professional youth ministry resources. How did you guys get the idea to start DYM?
JOSH: It was something we had talked about for years. The three of us (Doug & I and original co-founder Matt McGill) were buddies and always talked youth ministry and one night at a conference we finally pulled the trigger… and at the end of the weekend the site was live!
DOUG: The idea was a rogue startup from the beginning, we decided early on that everything on the site was going to be (1) inexpensive, (2) from the trenches of youth ministry, (3) bigger than us, and (4) customizable, editable and downloadable. We almost called it Digital Youth Ministry, but we changed the name at the last minute.
JONATHAN: What is one of your personal favorites of all the DYM resources?
DOUG: I'm a HUGE fan of our newly released Games App… I think it's a game-changer in youth ministry. It makes youth workers look so good with their audience and it's super simple to create. You can literally create a personalized game for your group in minutes. I just showed Josh how to play the new game Survey Says if you want to see it in action: http://blog.downloadyouthministry.com/dym-games-app-update-new-game-survey-says
Right now the App contains 7 different games and we're going to be adding one new game every 6 weeks or so. It's the hidden gem at DYM. Secondly, I love the Newsletter Builder (which is part of the DYM Membership). It's just so good… honestly, I could talk about the products all day long. There's over 1000 of them… What's your favorite Josh?
JOSH: Doug and I did the series "Facebook Official" a while back and that for sure stands as one of my favorites. I echo Doug, we're love the games because youth workers can't create the quality of these games for $3, and they need them every week, which makes games the #1 seller on the site. If you want to have fun, DYM is the place to get it for youth group tonight.
JONATHAN: I love the games too. You guy's do an amazing job adding a professional touch to the resources people on the front lines create. I love what you've done with many of my parenting resources, youth ministry talks and games!

Last question: how has running this company together affected your friendship? What can we expect in the near future from Doug, Josh & DYM?
DOUG: Everyone says partnerships are tough on friendships. We haven't seen that yet. Matt McGill (a co-founder) moved and broke up our little boy-band trinity, but Josh and I have a blast together. If we didn't have so much fun we might get more work done. So far, it is really working. Seeing so many youth ministries win and thrive with our resources without breaking their bank is what we're all about. Our DYM Skunk Works is always working on something… we're up to something big but not quite ready to talk about it fully yet. Let's just say it'll be easier than ever to…
JOSH: Hey! I thought we weren't ready to talk about it yet [laughs]. Our friendship is effortless. I've known Doug on and off the stage forever. We're excited to serve youth workers together now more than ever!
JONATHAN: Thanks so much for taking the time to chat. You guys have not only helped the ministries of thousands… you've helped me! Thanks for what you guys do!
Right now DownloadYouthMinistry.com is offering my blog readers some FREE stuff! No strings attached. $20 to spend in the DYM store plus EIGHT FREE downloadable youth ministry resources including a game, video, training… and more.
They want to give people a free taste of what it's like to be a DYM Member. Get the free stuff here!