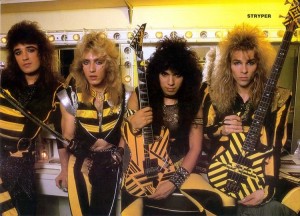 Did you grow up in the 80's?
Did you listen to Christian music in the 80's?
My wife Lori was playing Amy Grant's Straight Ahead album in the car the other day and my girls began complaining. Lori and I both defended the album because it was nostalgic for each of us. In a time where there wasn't a lot of good Christian music options, Amy delivered something that resonated with young believers.
Amy wasn't the only one. In fact, I recall 5 Christian artists that really made an impact on me as a young music lover in the mid 80's. I'm not going to try to claim these artists have anything on Michael Jackson, Van Halen, or Tears for Fears (secular contemporaries)… but they made their mark on the Christian music world and paved the way for future Christian bands in decades to come.
Here's a glimpse into the Christian Music past… (with the 80's hair, bad video, etc)
1. Stryper

I can't tell you how many people I've met who were saved at a Stryper concert. The band has reached thousands. These guys are the Billy Graham crusades of Metal.
Stryper was one of the first bands to reach secular markets and make it in the mainstream music world. Their song "To Hell with the Devil" went platinum. They opened for bands like Ratt and Bon Jovi… except, they threw Bibles out in the crowd.
To this day metal fans give a respectful nod to Stryper.
2. Amy Grant

I can hear the sighs already. Some Christians didn't like her sound. Others didn't like the fact that she was divorced or went mainstream. But Amy's talent, impact and heart for worship are undeniable.
Amy first gained notice with her sweet Nashville sound, singing "Father's Eyes" to an acoustic guitar, or "El Shaddai", a song sang by countless soloists every week in churches across the U.S. She gained popularity with each album, and eventually secular airplay with three hits from her Unguarded album ("Find a Way", "Everywhere I Go", and "Wise Up"). I remember Christians being angry, claiming she "sold out" and went secular. Years later bands like Switchfoot and Matt Kearney would do the exact same thing with little to no criticism. Amy was the first.
Funny, during those controversial years where people were critical of her, my wife and I went to a concert to hear her. She played a lot of her hits, then she led a worship set. Amy was far from a sell out.
3. Steve Taylor

Steve Taylor's 1983 album I Want to Be a Clone was groundbreaking. It wasn't rock; and it wasn't really pop. Some compared it to Devo or Talking Heads. But the music was catchy and the lyrics were solid.
Taylor released another album a year later: Meltdown. I used to listen to side two of this album on my Walkman (remember those?) every night as I fell asleep. Songs like "Hero" and "Baby Doe" didn't pull any punches.
Steve went on to make Christian movies.
4. Petra

In 1982 Petra released an album titled More Power to Ya, and it changed Christian Rock. The band featured electric guitars and strong vocals producing a contemporary sound like Kansas or Foreigner (I dare not say Journey… no one could rival Steve Perry).
Petra's song "Judas Kiss" was probably the most notable, with back masking (that if you played backwards said, "Why are you looking for the devil when you ought to be looking for the Lord") and a catchy intro guitar riff.
Sadly, in reality they were a one-album wonder. That album was their beginning and their peak. But it was probably the album that converted many teenagers to Christian rock at the time. It was the Jesus Freak of the early 80's.
5. Resurrection Band

For those who found Petra a little dated, Rez Band stepped up and filled the gap. Rez Band was Van Halen when Petra was still trying to be Boston.
I saw Rez Band in concert multiple times as a teenager. Their lead guitarist Stu Heiss was phenomenal (always performing an amazing solo during the song "White Noise") and their hard rock sound matched mainstream contemporaries. But most of all, the band was mission minded. Glenn Kaiser always shared Jesus at his concerts. He gave altar calls at the ones I attended.
Honorable Mentions:
Some other 80's bands I have to mention…
Undercover—Christian punk band. Great sound. Very mission minded. Loved their song "God Rules."
Tonio K—Obscure artist with only one popular Christian release. Sounded like David Bowie.
Benny Hester—Loved his song, "When God Ran."
Michael W. Smith—needs no introduction
Keith Green—probably more popular in the late 70's, but tragically died in a plane crash in 1982; as a piano player myself, I was a huge fan.
So for those of you who lived during this era—who did you listen to?