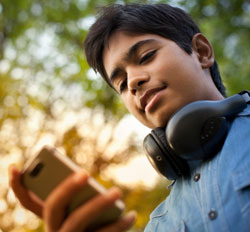 A bunch of people have been asking me the story behind my brand new book of brutally honest advice to today's guys. The truth is… I almost didn't write it.
Last summer my agent called me and said, "I've got a book for you to write." I thought, No way. Already swamped. I was wrapping up my Zombie book, and halfway through writing Get Your Teenagers Talking, all this on top of all my speaking and training for our ministry… but then he told me what the publisher wanted:
"It's a book that will provide candid advise to teenage guys."
He hooked me. I couldn't say no. Next thing I knew, I was writing The Guys Guide to God, Girls and the Phone in Your Pocket.
I sent out texts to my friends and family and asked them this question:
What advice would you give if you could speak freely and truthfully to a young guy today?
The responses that trickled in were insightful… and hilarious!
And now it's on the shelves. 101 real-life tips including. . .
Today's nerd is tomorrow's boss.
If you have to look over your shoulder to check if anyone's in the room, you probably shouldn't be typing it into the search engine.
Learn a skill that would help you survive a zombie apocalypse.
Realize most bad choices usually began five choices ago.
If you have a TV in your bedroom, unplug it right now and move it to another room.
Remember: the girl you're checking out is someone's daughter!
Take off your headphones and play your music out loud.
Guy's who get hooked on porn can't even satisfy their wife.
I spend about a page or two on each tip, sharing candid truths… just what today's guy's need to hear. New York Times Best-Selling Author Nancy French calls it, "Refreshingly Brutal."
It's been garnering some decent reviews so far. Check out what people are saying on Amazon (24 reviews posted so far).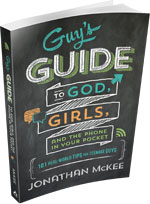 GET A SIGNED COPY OF
"The Guy's Guide to God, Girls,
and the Phone In Your Pocket"
FROM JONATHANRIGHT NOW!