I'm looking for some people to give me feedback
about my book BEFORE it's published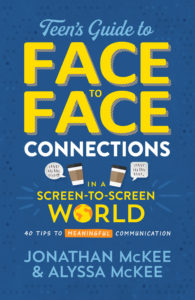 My 24-year-old daughter Alyssa and I are finishing up our last few chapters in my next book—and yes, this one I'm co-writing with her! She is bringing such an amazing perspective, I think people are really going to enjoy her vulnerability about the effect social media has had on her life.
The book is to teenagers about "face-to-face connections in a screen-to-screen world." Alyssa and I share 40 tips to meaningful communication…that we wish we knew 5 years ago.
Would you like to read it next week? Because I'm looking for feedback… and you'll have 10 days to peek at it.
Here's the deal: If you'd like to read this book before anyone else does AND give us your feedback…then I'll also give you a copy when it's released this year! (Sadly, the free copies are limited to US readers because of shipping costs).
Dates & Details:
Alyssa and I will have a transcript ready for you to read on February 10th. It will be in MS WORD.
We're looking for people who can commit to read the ENTIRE book (it's less than 50,000 words) AND give us feedback within 10 days. (And if you have/work with teens, then you can let them take a peek and try out the discussion questions on them.)
All comments/feedback need to be submitted back to us by Feb 20th.
These transcripts will be for your eyes only. I'm only offering this to my readers and subscribers.
Interested?
Just hit reply to this email, email me, or use the CONTACT US page on any of our websites and let me know, "I'm in!"