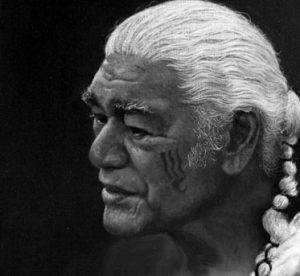 Last weekend I encountered a man so remarkable, the experience was life changing.
I didn't expect it. I was visiting Maui by myself for the quickest trip to the island I've ever had, there and back in just a weekend for a friend's wedding (not the choice way to do Maui). The ceremony was ocean-side in the beautiful Kahanu Gardens in Hana, a truly precarious drive, but breathtaking scenery.
As we were waiting for the ceremony to begin… this man caught my eye.
He was Hawaiian with a chiseled jaw, a tribal tattoo on his left cheek, and his grey hair pulled back tightly into a bun. He was probably one of the eldest people at the wedding, but no doubt one of the most physically strong. He was perfectly composed—confident, yet meek and affectionate.
Whenever someone saw him, their eyes grew wide and they approached him with complete humility and respect. He would great them by placing his hands on their cheeks, leaning his forehead to theirs and breathing in, sometimes accompanied by a kiss on the cheek.
Soon I discovered he was an elder in the Ali'i of Hana. One of the great chiefs, and by far one of the most respected men in the region. Most of the young men attending the wedding had grown up under his tutelage at some time in their childhood. He was honored greatly among his people.
After a few minutes he approached me and introduced himself. No flaunting of credentials, just, "I'm Solomon; pleased to meet you." He was excited to hear that I knew the groom, my friend Mikala. Mikala, was a young Hawaiian man he respected greatly.
We talked briefly and then he turned to greet someone else.
Here's where he surprised me. Every time someone else greeted him, he would then turn towards me and introduce them to me, saying, "This is Jonathan. He is friends with Mikala." Time and time again someone would come and great this man, then he would introduce each of them to me.
The man stood next to me through the entire ceremony. We talked about his kids (my age), my dad (his age), our friend Mikala, Jesus, church, and Hawaiian culture. He even taught me their greeting.
"Make sure you breathe in when you great them," he said (probably an enlightening experience after a hard day of work).
After the ceremony I thanked him for his time and his companionship; he had to leave to get back to his family. We parted, giving the Hawaiian greeting, and he told me, "When you greet someone like this, tell them you learned that from one of the Ali'i in Hana."
Later in the evening I was hanging out with a young man who had helped with the preparations with the wedding meal. I asked him honestly about Solomon. "What was it about him? He obviously is a highly respected man, but yet he was one of the most humble and amiable men I've ever met."
"That's his Aloha." The young Hawaiian replied.
My face must have registered my confusion. What is Aloha? Isn't that a greeting?
"That's his…" he searched for the right words… "his love, his care for humanity. It's his Aloha. That's just who he is."
Christians would probably call this love. But that's such a weak word. Probably more agape love, compassion, selflessness, brotherly kindness… everything Jesus modeled.
Do we model this?
Honestly? Do people in our church feel the same way when they encounter us?
This man noticed me, introduced himself to me, remembered my name, introduced me to others, hung out with me for an entire event… and grasped my head, pressed his forehead to mine, breathing in and thanking me for talking with him. I can count on one hand when I've ever felt so loved and respected.
I wonder how people felt when they came face to face with Jesus.
I'm pretty sure Jesus had Aloha.
And I'm pretty sure I want to treat others like this from this day forward.