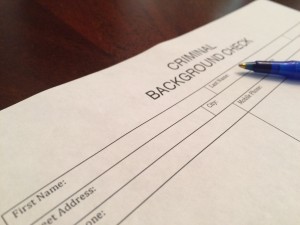 You've discovered an amazing potential volunteer… but you don't want to mess anything up!
You've taken the advice of experts and dedicated actual time out of your schedule each week for recruiting and keeping volunteers. Then you took the next step and actually asked them to serve in a small way, a one-time opportunity that was easy for them to say "yes" to, and that gave them a taste of your ministry. After that, you've met with them several times and they seem like a perfect fit…
But how can you make sure they don't turn into the Volunteer from Hell?
Last week I provided two simple steps, frequently overlooked, actually calling the person's references, and then sitting down with them for a formal interview where you ask them about their past.
Today's let's look at yet a third effective way to screen volunteers so you can avoid the Volunteer from Hell.
No. 3. The background check
It's a common recommended practice for any churches, schools or organizations who connect adults with children. If you've coached or mentored kids through your community schools, you've probably already experienced this. It's routine. It's a simple check into a person's past to make sure they're not Peter Pedophile.
When I coached track for my daughter's school, I had to get two background checks—one for the school, and one for parks & rec, because it was a joint venture between the two. Schools are serious about their background checks.
Churches and responsible organizations need to follow this example. It not only helps you prevent recruiting the Volunteer from Hell, this policy communicates to parents that you care about their kids.
Organizations like GROUP provide very affordable background checks, offering complete programs with helpful resources like newsletters, and safety videos. Many of your insurance companies might also be able to recommend where to get background checks, and they might even give you discounts on your rates if you comply with certain recruiting standards.
Whenever I required a blood test or background check, I paid for this service for my volunteer. I never wanted to tap my volunteers' wallets when they were already giving time (part of the perks I try to provide in my efforts keeping volunteers).
The more you communicate with your potential volunteers up front, the better you'll get a chance to see if they're a good fit. We call this the "dating process"…something we cover in great detail in The Skinny and The New Breed.
Join Jonathan this September in Colorado for several days of training at GROUP on "Mobilizing a New Breed of Volunteers."