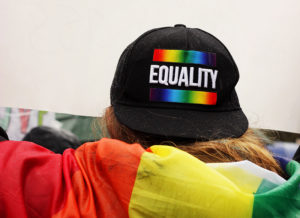 I don't know the last time I was this excited about teaching at a conference. Maybe it's because it's something we are sooooooooo passionate about, reaching young people who identify as LGBTQ+.
This isn't your typical conference. It's just something my friends Sean McDowell, Greg Stier and I were talking about… and we were like, "Let's do it!"
And so we did.
I'm talking about the Anchored Leadership Conference in just a couple weeks on November 2 and 3… either in SoCal or live-streamed that week (if you can't watch it live, you can actually replay it once that week for up to one week).
We put together the conference because it's addressing hands down the biggest issue we've been getting questions about in the last two years. Questions like:
Out of 20 kids in my youth group, three or four of them identify as another gender. How do I handle this when we divide to "gender-specific" small groups?
A lesbian in our youth group wants to lead worship? How do I respond?
I want to teach our kids about Biblical sexuality. Will I be a hater if I teach one man and one woman?
The list goes on.
But here's the exciting aspect: youth groups are full of lost kids, both straight and gay, cisgender and transgender… and all of them are looking for meaning. Jesus can provide that meaning and identity in their life.
Are you pointing them to Jesus?
We're excited to provide a little bit of help to leaders in this area.
I'll be talking about culture & identity, Sean will be talking about the Bible as our authority, and Greg will be sending us off with how to reach out to our community. In addition, we have testimonies and panels from other great speakers and youth workers.
Can't wait!
Find out more on AnchoredLeadershipConference.com