This Thursday I'm posting a new article on our PARENTING HELP page helping moms and dads not only talk with their kids about the stressful news they're seeing and hearing, but also providing them a solid foundation in an otherwise shaky world. Here's just a snippet of that article…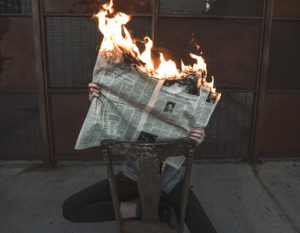 If you have kids under 18, then the last few weeks…scratch that…months have probably invoked more fear and unrest than they have ever experienced looking at the world around them.
First Covid-19, then the tragic killing of George Floyd, then the outbreak of violence in the streets… all of these issues dividing people instead of united them. Millions of American homes have news channels on right now that aren't reporting news as much as "casting blame."
I've been alive 50 years, and I've never seen our country so divided.
I don't think many adults are stopping to consider…our kids are watching.
Our Kids are Watching
A black man is killed by a policeman on national TV. Our kids are watching.
Looters throw garbage cans through store windows and carry out televisions. Our kids are watching.
Politicians point their fingers. Our kids are watching.
The world pauses to remember George Floyd, even on kids' channels. Our kids are watching.
Parents turn on that news station they love so much and watch editorialists shake their heads and point their fingers for hours upon hours. Our kids are watching.
Brands speak out and voice their protests in unique ways. Our kids are watching.
Grampa gets mad at the TV screen and starts casting more blame. Our kids are watching.
What are our kids gleaning from all of this pain, violence, bitterness, and unrest? More importantly, how can we talk with them about all they are observing?
Here is yet another situation where being proactive is always better than being reactive. Right now the entire world is reacting, many acting without thinking. What our kids need is a solid foundation in an otherwise shaky world.
So how can we anchor our kids to this solid foundation?
SUBSCRIBE to our free PARENTING HELP articles at TheSource4Parents.com to receive this entire article Thursday.