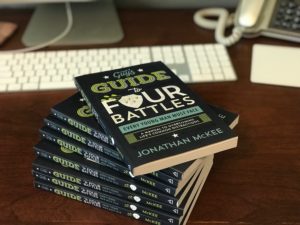 It's always fun when my publisher sends me a stack of my newest book fresh from the press!
It's finally here! So excited about this book… a book TO YOUNG GUYS with a helpful strategy to face the distractions in their life: screens, sexual temptation, substances, and struggles with self esteem (who am I?) Each chapter has discussion questions making it the perfect book to go through with that young man you care about so much!
Amazon has already released the Kindle version and the paperback releases on Amazon next week on May 1 (Amazon pre-orders actually should arrive at your house on May 1).
I designed the book to be a great discipleship tool for a dad to go through with his son or a youth pastor to go through with a young guy… perfect for that small group of guys! (Contact me if you'd like to order bulk copies).
I hope this book helps you open up the doors of dialogue about truth with guys!
ORDER YOUR COPIES ON AMAZON NOW
AND THEY WILL ARRIVE NEXT WEEK!