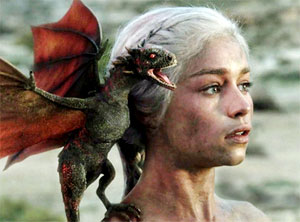 Game of Thrones anyone? How about the new Fifty Shades of Grey?
In a world where this kind of sexually charged entertainment is rapidly becoming the choice diet of mainstream audiences… what are Christians to watch? I mean seriously. How many times do we have to watch Facing the Giants?
I just read an article sharing John Piper's thoughts on "Nudity" and Game of Thrones, and I was compelled to chime in. Yes, I realize that I'm taking a risk to even speak out about Game of Thrones, especially to my Millennial readers (currently, age 19-34), because… they love this show passionately!
So let me just ask the big question. We've all heard about the show's graphic sex and nudity. What's the verdict?
Should Christians be watching this stuff?
This discussion has never been more relevant, especially since that show is not only the most popular HBO show ever with an average audience of 18.4 million viewers each week, but it is also the most Googled show, and the most pirated show in the world! Most pointedly, it grabs the number one cable spot every week, even beating most broadcast shows on any given week (like the week ending June 15th, where only the NBA finals beat it out). And in a country where at least 91% of American homes pay for TV, it's not uncommon for homes to subscribe to HBO, Skinamax, and the others… or at least get the three free months of those shows. Maybe that's why so many of today's top TV shows are cable shows (in fact, HBO earned two slots in the Top 10 of that list, including the #1 spot).
The problem is, most of these well written shows have learned that a small dose of sex is good for the numbers. And entertainment is all about the numbers. So we've been seeing a rise of sex and nudity in mainstream programming, so much so, that it's really difficult to find entertainment that isn't sexually charged. This makes it difficult for parents who are trying to teach their kids to make good media decisions.
Last week I turned in two books to one of my publishers, a book to parents about talking to their teens about sex, and a book to teens about sex (they'll both be releasing early 2015 from Bethany, or a month earlier here on our site). In the book to parents I brought up HBO's Game of Thrones several times as an example, because the show has a reputation of being sexually explicit. In fact, Saturday Night Live even made fun of the show, jesting that it was written by two authors, a historian, and a 13-year-old boy who, and I quote, "liked boobs!"
When the show first released in 2011, my wife and I heard from several Christian friends how phenomenal it was, so we gave it a try. They were right. It was creative, great performances, and a genre we really enjoyed. Sadly, in episode after episode there was the "gratuitous sex scene." And let me tell you, not just the typical FX or AMC sex scenes where we often see bare backs and butts, or see two naked people have sex under a thin sheet (sad that this is now "typical," huh?). These HBO sex scenes are soft porn: full frontal nudity, threesomes, lesbian sex scenes… a one-minute version of almost everything porn offers except for extreme close-ups.
It wasn't long before my wife and I made a tough decision, "We can't watch this."
I say tough, not because it was difficult to know what was right. It was tough because we loved the writing, enjoyed many of the characters… but knew that the show crossed the line (I guess I just tipped my hand as to my opinion on the matter).
Sadly, this is literally the most watched show by the Millennial Generation. In fact, I rarely meet a Millennial who doesn't watch the show. Whenever I bring it up with college students in Christian circles there is always that awkward moment where finally someone will speak up, "Well, we don't pay any attention to those parts." or, "We just fast forward those parts."
And Game of Thrones isn't the only entertainment in question. This week we're starting to hear the hype for the new 50 Shades of Grey movie as well, as the trailer is going viral. Another movie piece of modern "art" that is selling well and is guaranteed to be sexually charged.
In the article I linked above, John Piper asks Does Nudity Make Game of Thrones Off Limits. I'm not sure "nudity" is the right focus here. Don't get me wrong, I'm not dissing Piper, and I'm not condoning pornography, I just want to ask a bigger question. For those of us who have put our faith in Christ alone and are allowing Him to sanctify us, when does today's "art" become a distraction slowing us down, a sin that we need to "strip off" (Hebrews 12:1,2)?
So I ask, is it okay to watch these sexually charged programs and movies? Should a married couple go see 50 Shades of Grey? Where is the line between a Michelangelo nude painting (which has never started my engines) and a very provocative Game of Thrones scene (which could jump start a eunuch)?
Is this entertainment the next "cohabitation justification"… the next area where young people specifically are going to just abandon Biblical moral principles because… "Come on! I like the show"?
I'd love to hear your responses, and then I'll be chiming in with my two cents next post.
DO YOU SUBSCRIBE TO JONATHAN'S BLOG? IT'S EASY. CLICK HERE.