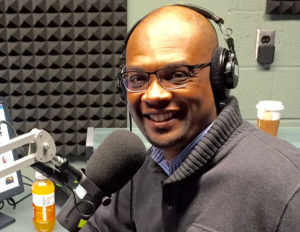 Today (Monday, May 6th) I am really looking forward to the conversation with my friend Chris Brooks live on Moody radio. We're talking about how we can actually help "distracted" young guys today.
Over the last several years I've had the opportunity to be the guest on Chris' show, "Equipped with Chris Brooks" and it's always one of my favorite interactions (shhhhhh…. don't tell anyone!)
Chris brings wisdom, authenticity and relevance to conversations about parenting and apologetics… in other words, people walk away blessed after hearing him. So I thoroughly enjoy my conversations with him because it's not so much just him "asking me" …but a dialogue about important subjects like the one we're tackling today, "How can we actually provide young guys with a helpful strategy to face life's distractions?"
He's also giving away a handful of copies of my new book on the subject, the book that just released this last week, The Guy's Guide to FOUR BATTLES Every Young Man Must Face.
Tune in to our conversation… more about where to listen (or listen online) HERE.