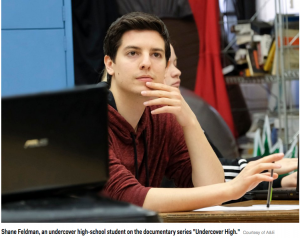 I love it when research discovers something we've been telling parents for years. And for the last few weeks A& E show Undercover High has been revealing an eye-opening peek to many parents about the reality of what's truly going on in the lives of the high school just down the street from you (and one of these "uncover adults" is a youth pastor).
The show unveiled quite a few realities about teen culture- seven, in fact.
1. The biggest surprise for these undercover adults was how much social media and smartphones had changed high school culture completely… and for some of these young adults, high school was only 5 years ago.
2. They found bullying to be rampant… because it doesn't stop when the bell rings. Mean words, mean comments and intimidation is now a 24/7 activity. (The A&E website has a great interview with an undercover student who admits she was a bully in high school and offers parents some ways to open up a dialogue with your kids about bullying.)
3. The show also noticed the pressure girls were under to share explicit images. It's not just a stat… it's a reality.
4. Of course, the rise in depression and anxiety was also noticeable. The incognito adults saw an obvious link to social media, noticing how much they relied on social media numbers to quality their value.
5. The also noted teachers have less control than ever…
6. The attitude toward teen pregnancy was completely different than it used to be…
7. And finally… that teens just want someone to talk to.
If you didn't catch the show, Business Insider wrote a nice summary of their discovery or you can stream the episodes on Amazon (episode one is free).