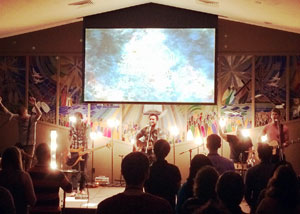 I speak at about 25 events a year. And in a world where most Christian events contain two elements—a band, and a speaker—I hear A LOT of worship bands.
Last weekend I heard a band that really stuck out.
Let me explain "stuck out."
I was hosting and speaking at one of the eleven Youth Specialties Team Training events. This one was in Phoenix, and Kara Powell, Brian Aaby and I were the speakers. The doors hadn't opened; four of us were sitting in the back handling logistical details (the books that Zondervan failed to send, the video feed that wasn't working properly…), all while the band was rehearsing. Brian Aaby, Youth Specialties' Michelle "Shelly" Fockler and I are all talking… and all at once the three of us are compelled to just stop and listen to the band warm up.
"These guys are really good." Shelly finally verbalized, words we were all thinking.
The band was a local AZ band named Army of Light. These guys were young, current and … here's the kicker… easy to work with!
As the event progressed throughout the weekend, David (lead singer) and the guys were amazing on stage, truly leading people into worship, not pumping their own agenda… everything you want in a band.
I meet a lot of good worship bands.
These guys stuck out.