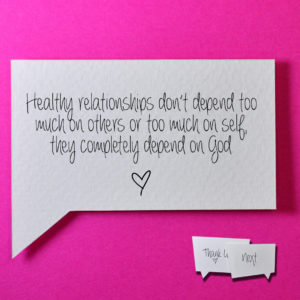 Next week is Valentine's Day, and that means young people are thinking of relationships, which is a happy thought for some… and a depressing thought for others. This is probably why so many youth ministries do their "sex and dating" teaching series this time of year or at least a talk on relationships.
So here's a few resources to help you with these conversations:
One of our writers wrote two brand new FREE Music Discussions using Ariana Grande's song "Thank U Next." The youth ministry discussion uses scripture and provides small group questions.
The parents' discussion also uses scripture and provides three questions you can ask your kids in the car, also free.
And for those in youth ministry who want a talk with graphics and everything, I wrote a 25-minute talk, and Download Youth Ministryadded graphics, slides and small group questions HERE.
You'll find even more talks from me on this subject in the past… like my talk, "What do you mean Flee?"
And this year I was one of four author/contributors to a book titled, 4 Views on talking to Teenagers about Sex: Pragmatic Help for Teaching Sexuality. (I was one of the conservative voices).
And of course there is my quick read I wrote to students called SEX MATTERS, sharing the explicit Biblical truth about sex.

And this year my second

Guy's Guide book

comes out addressing the four biggest "distractions" young men face, and one of those distractions is sexual temptation. That book will release in May.
All these are helpful resources engaging our kids in conversations about truth on the subject. Keep up the good work! In a world so full of explicit lies, young people need someone who isn't scared to share the explicit truth.