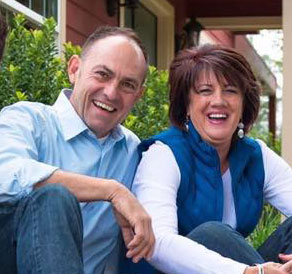 Youth Ministry lost a good friend this past weekend. My friend Rob Maxey, Executive Director of Youth for Christ here in Sacramento passed away Friday after a long battle with cancer.
Even if you didn't have the pleasure of meeting Rob, many of you actually knew him by reputation. Rob is the friend I featured in my book CONNECT who literally taught me how to talk with kids on campus (the guy who said, "Hi, I'm his parole officer"). Rob is the friend whose stories I've used at countless youth ministry trainings and parent workshops because of his amazing grasp on how to connect with today's young people.
The first time I met Rob I worked for Youth for Christ and knew him as "the crazy guy who paid us over $1,000" because he brought over 100 kids to our youth event and foot the bill himself. Rob was just a volunteer for the junior high ministry at his church and had told his entire youth group, "Bring your friends and they come for free!" Over 100 young people showed up, and Rob had to frantically recruit drivers as parents were dropping kids off.
Rob had an inherent knack for reaching kids no one else reached. He built a barn next to his property because kids in his neighborhood had nowhere to hang out. The barn brought out literally hundreds of kids each week.
But Rob didn't just bring kids in… he went to them. He showed up on campus during lunch, after school, at summer school… you name it. Once he was on campus talking with a bunch of kids he knew and a new kid walked up. One of the kids introduced the new kid to Rob, "This is the guy I was telling you about," pointing to Rob, "He really loves us." The new kid whipped out his phone and took down Rob's number, saying, "I'll put you under 'HELP' because that way I'll remember where to find you."
Rob was a reflection of Jesus to most who met him.
Last summer my daughter Ashley interned for Rob at Youth for Christ and the experience was life changing. In the last decade Rob had transitioned from youth ministry volunteer to Campus Ministry director to Executive Director. But most kids knew him as the guy who was there when nobody else was.
He was a visionary, a leader… and most of all he was a friend.
Rob was married and raised two amazing boys. They knew this day was coming… but mourn his absence more than most of us will ever know.
Please pray for Rob's friends, family and ministry.
Life won't be the same without him.
Love you Rob!!!