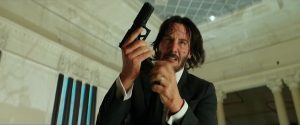 It's always interesting when people search for the "why" behind shootings and acts of violence (much like the why behind spikes in anxiety and depression). People are always looking for someone to blame.
It's those violent video games.
It's Quentin Tarantino movies!
It's the second amendment.
If only it were that simple. I think most experts would agree it's often an amalgamation of these elements. With shootings, the typical profile is a white male, 25 to 45, military background, tumultuous relationship with his mother… but not always (Las Vegas shooter was 64).
Last week I was talking with a youth pastor about some of the struggles young people are experiencing today, and his comment was, "It's like none of them have any conflict resolution skills! They don't know how to resolve differences with family, friends or the people they encounter every day!"
I actually laughed, agreeing. "Well who are their role models for healthy relationships and conflict resolution? Taylor Swift? John Wick?"
I won't be one who casts full blame on one source, because I realize how powerful the influence of parents, teachers, friends and entertainment media can be. But we'd be fools to ignore the influence that young people are soaking in at an average of 9 hours per day—because that's just the average young people are plugged into entertainment media. And we might want to consider taking notice when those who study these influences, like the pediatricians from the Kaiser Family Foundation, say, "We need to give our full attention to anything that takes up this much space in young people's lives."
Simply ask ourselves, where are our kids learning how to respond when someone disagrees with them or makes them angry? Is there anyone teaching them patience, gentleness, or considering others greater than themselves?
Who are the role models they are getting the biggest dose of life skills from?
What advice will they glean from John Wick, a film that has become a favorite among young millennial men, a man who acts out revenge with violence.
What skills will they learn from the video games they play every day, where conflict is handled through combat?
What will they learn from the music filling their ears? Consider the conflict resolution advice in just a few of the top songs today… and I mean the tip top:
No 1: Rockstar, by Post Malone
F**kin' with me, call up on a Uzi and show up, name them shottas
When my homies pull up on your block, they make that thing go gra-ta-ta-ta
(more on this song here)
No. 2: Bodak Yellow, by Cardi B
Said, "Lil b**ch, you can't f**k with me if you wanted to"…
If you a pu**y, you get popped, you a goofy, you a opp
Don't you come around my way, you can't hang around my block
(entire lyrics here)
No 6: Sorry Not Sorry, by Demi Lovato
Now payback is a bad b**ch
And baby, I'm the baddest
You f**kin' with a savage
Can't have this, can't have this (ah)
And it'd be nice of me to take it easy on ya, but nah
Baby, I'm sorry (I'm not sorry)…
No 13, Gorgeous, by Taylor Swift
You're so cool, it makes me hate you so much (I hate you so much)
Whisky on ice, Sunset and Vine
You've ruined my life, by not being mine
You're so gorgeous
I can't say anything to your face
'Cause look at your face
And I'm so furious
At you for making me feel this way
But what can I say?
You're gorgeous
No 25, Look What You Made Me Do, by Taylor Swift
But I got smarter, I got harder in the nick of time
Honey, I rose up from the dead, I do it all the time
I've got a list of names and yours is in red, underlined
I check it once, then I check it twice, oh!
Ooh, look what you made me do
I'm not saying if your kid watches Fast and the Furious they will automatically start getting speeding tickets. I'm simply asking us all to pay attention to what we're all soaking in every day.
Where are your kids learning how to respond to conflict?
Are your kids ever hearing the truth?
Will they go to what they've learned from Mom, scripture, or Demi Lovato next time someone crosses them? Which is fresh in their minds?
Hmmmmmm.