As requests are coming in for speaking this fall, I wanted to let you know about a new workshop I'm launching… FOUR CONVERSATIONS! It's the first parent workshop I'm doing where I have parents and kids in the same room!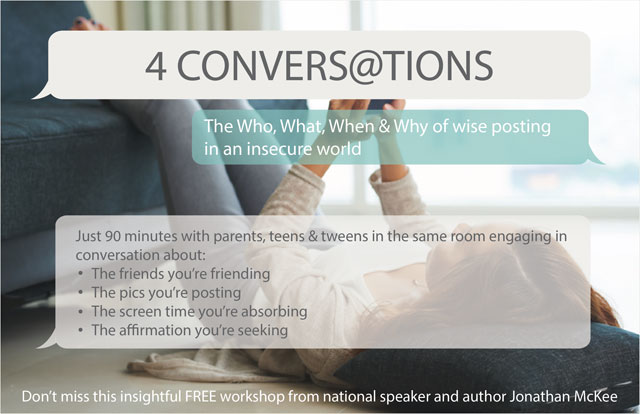 Right now my go-to workshop for parents is PARENTING THE SMARTPHONE GENERATION… I taught this workshop in almost 30 churches in the U.S. last year. For those churches, this new workshop is a natural next step to opening up the doors of dialogue about these important issues with families.
My goal is to start conversations in the workshop that will continue in the home.
The workshop focuses on helping young people think before they post, the focus of my new book, The Teen's Guide to Social Media & Mobile Devices (here's a recent TV interview about the importance of these conversations).
For more information on how to book me for one of these workshops, just visit my PARENT WORKSHOPS page or click here to CONTACT ME ABOUT BOOKING one of these workshops.