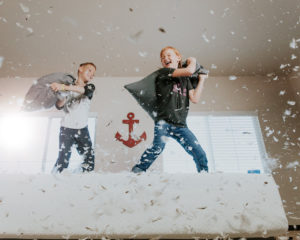 Tired of being stuck at home watching Netflix? Tired of your lack of social connection with your friends?
Try this…
Text a group of your friends and challenge their families to "Jonathan's 15-minute home scavenger hunt."
It's simple. Tell them at 7:00 sharp they will all receive a list. At 7PM send them Jonathan's list (which probably has way more items than any one family can get) and give them these instructions:
In a group text, send ONE picture of as many of these items as you can by 7:15PM—gather all the items on the floor and take one clear picture where all items can be seen in one shot. For each item in the picture you will get 100 points. For each minute after 7:15 you get minus 100 points. No pictures will be accepted at all after 7:20. Family with the most points wins!
Here's the list:
JONATHAN'S 15-MINUTE HOME SCAVENGER HUNT LIST
A set of black shoelaces
An expired driver's license
An unopened pack of toilet paper
A wedding picture
A dead bug
A dog collar
A fried egg
A crescent wrench
A crescent roll (cooked)
A picture of a crescent moon
A feather pillow (which is perfect for a pillow fight)
A VHS tape
Any Star Wars film on disc or tape
A cassette tape
A cat
A set of AirPods
A flip phone
A bow and arrow
A book by James Patterson
Any Kitchen Aid brand appliance, mixer, etc.
A can of some diet drink
A NFL jersey (not t-shirt)
A red stapler
A black leather Bible
A business card
A crock pot
A deck of cards
A yellow pages phone book
Flushable wipes
A blow dryer
Vitamin C tablets
A bobby pin
A swim cap
A bird (good luck with the cat)
A flashlight
10 cans of soup stacked in a pyramid
A McDonalds bag or wrapper of any sort
A bottle of Pepto Bismol (a necessity if you have the above item)
A silver dollar
A barbie
A roll of quarters
Enjoy!
Jonathan McKee
TheSource4Parents.com
https://www.amazon.com/Jonathan-McKee/e/B001IQWE9U