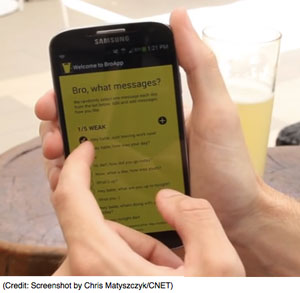 Okay, this is either really hilarious… or really sad.
It's called the BroApp. A couple of Australian tech guys noticed a market for a product that would help irresponsible "bros" text their girlfriends regularly to tell them they care.
Hmmmmm… I'm not sure if this is the same thing as when I used to hide little love notes in my wife's luggage before she left on a retreat.
It's like this. You select your girlfriends number, some messages, and the time of day you want those messages sent to her. BroApp does the rest.
Yeah, in other words, you can have the BroApp send, "Thinking of you!" next Tuesday morning at 10AM.
It's just another "bro" looking out for you, right?
The BroApp even has safeguards to make sure you don't mess it up. For example, you can enter in your girl's wireless so it detects it and won't send to her while you're with her (that would be a little awkward to be on the couch with her, with your phone across the room… and she receives a text from you!)
All the details are in this little piece by CNET (ht Ypulse.com).
So what do you think? Is it pathetic… or a good idea? Is it thoughtful for your man to send some timed messages to you ahead of time… or just lazy?