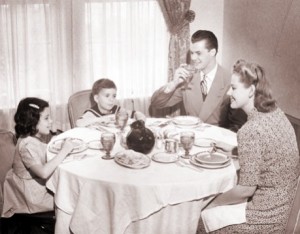 As families and friends gather together for the holidays, the big question I have is… where will they gather?
Their dining room?
The kitchen?
It's funny how much you can tell about a society's social norms solely from the changes in its home design. Think about it.
Do you have a dining room?
Is your kitchen sink near the social center of your house?
What year was your home built?
Today's homes have two glaring changes compared to homes from a few decades past: the disappearance of the dining room, and the open kitchen.
When the American family grew more divided, it didn't take long before builders began noticing the most "unused" square footage in the home—the dining room. I asked my friend Ron about this, an architect who has been building homes for almost 4 decades.
"It was a no-brainer. When people are on a budget they want to make their square footage count. Many people think, why waste it on a room we only use two or three times a year?"
Sadly, the death of the dining room had its consequences. Families who abandoned the family dinners began noticing problems. Columbia University documented some of these concerns in a report titled The Importance of Family Dinners. In 2012 they published their 8th report on this topic revealing some intriguing results:
Our surveys have consistently found a relationship between children having frequent dinners with their parents and a decreased risk of their smoking, drinking or using other drugs, and that parental engagement fostered around the dinner table is one of the most potent tools to help parents raise healthy, drug-free children. Simply put: frequent family dinners make a big difference.
Obviously the dining room isn't the only room families can eat in together. I have a dining room, but we probably only use it 5-10 times a year. Instead, we eat around a kitchen table almost every night (depending if we go out as a family—the economy can shift that trend as well). And the kitchen is another room that has experienced some change in American homes in the last few decades.
Last night my wife Lori and I were walking through an older neighborhood near our house. Most the homes on this street were built in the 60's and 70's. As we gazed past the flowerbeds and boxwood hedges, something caught my eye: a window to the kitchen sink.
We saw it in countless houses from this era. The kitchen sink faced a window on an external wall of the house. The person doing dishes looked outside, with their back to the rest of the kitchen. And the kitchen was often isolated by a wall or cabinets.
I remember a house where I lived as a young boy in the late 70's (Yes… I'm that old). The kitchen was a completely separate room just outside the dining room. In fact, my mom complains about that house to this day, "You guys would take off and leave me doing the dishes all alone by myself!" (My brother and I had a lot to learn.)
Today I don't see too many new houses with secluded kitchens, hidden behind walls or cabinets. In fact, most remodels are opening up kitchens and flowing them into other rooms. Many new sinks are on islands or on a counter more socially centered so the kitchen is connected to the family room.
I asked my friend Ron, "Why has the kitchen sink changed location?"
I'm sure many might speculate it's to face the TV. Others might argue, to face the rest of the family. Ron couldn't provide a reasoning, but this fact was clear. People now desired home designs with open kitchens flowing into great rooms.
Call it what you will, but people are social by nature. And even though half of today's Millennials will never get married, don't confuse their lack of commitment as a lack of desire to socialize. The new generation, who definitely is redefining "til death do us part," likes to 'hang out' with friends and family.
Consider the doors this opens for ministry.
Food has historically been a great catalyst for conversations. Consider how you, personally, socialize with friends and family in your home.
Has the disappearance of the dining room killed the communication in your home?
Are dishes something you do together as a family or friends?
What could you do to be more proactive about connecting?
What are you waiting for?