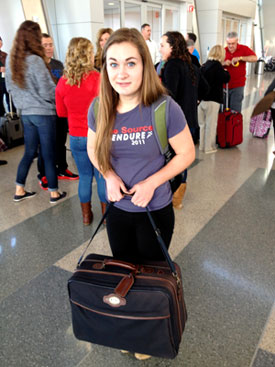 As I'm stepping on a plane to NC today for a weekend of teaching, it's actually my second trip to the airport within the last 24 hours. Yesterday Lori and I dropped off my daughter Alyssa, my dad and my mom at the airport where they joined a team of 21 people from our church who are going to Uganda to serve for two weeks.
I'm so excited for Alyssa… and a little scared.
I know I shouldn't be worried. Our church has sent teams to partner with these Ugandan churches for years now. It's an amazing time where Christians from different countries learn from each other and worship alongside one another. My dad is going to be training hundreds of Ugandan pastors, my mom (a CSUS professor) will be teaching at a women's conference, and my little Alyssa (17) will be helping where needed and using her awesome photo skills to be taking pictures of the whole trip.
But she's still my little girl!
Yesterday she and her little thrift store suitcase (she insisted on it) boarded the plane, traveling through Turkey, then on to Kampala. I don't know Uganda, but I know that some of the places they will be serving in the next two weeks are Soroti and Gulu.
Prayer warriors: Please lift Alyssa, my mom and dad up in prayer the next two weeks. Pray that God uses them and teaches them. Pray for safety. Pray for strength.
I'm always at peace that God is in charge… but it's always still a little scary sending your little girl halfway around the globe.
I appreciate your prayers!