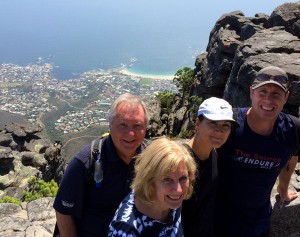 As I sit here on my 12-hour flight from Cape Town to Munich, my mind can't help but decompress, processing my week of teaching at the Imagine Ignite conference and hanging out with youth workers in South Africa. God's hand was so evident through this whole experience.
The week provided plenty of perks (pardon my alliteration), from the trip up Table Mountain, to wine tasting in the beautiful coastal vineyards, tasting a "Pinotage" for the first time. But none of those moments hold a match to the interaction my family and I experienced with the African youth workers who live completely on the opposite side of the globe from us, yet share in the relationship we have to Christ, a bond that made our connection a family reunion, as if we'd known each other for a lifetime.
Isn't God's Kingdom cool like that?
Taking all this in, I find five fascinating facets (there I go again with that alliteration) about our experience ministering in Cape Town this past week:
1. Just like on TV
Yes, they spoke English in South Africa, probably as good as they spoke Afrikaans; but differences in vocabulary and voice inflections made it difficult for us to understand them at times. Hardly an hour would pass where I didn't have to say, "I'm sorry. I missed that. Could you repeat that?" So we worried that they would experience the same listening to us (especially my dad and I on stage… because we talk fast!) But they all affirmed us, "Nope. It's easy to understand you. You sound like everyone we watch on TV."
Western culture definitely controls the entertainment media. (My peek at their TV and their music charts confirmed that.)
2. The training vacuum
Cape Town isn't "the bush" of Africa. It's not remote or isolated like Uganda. In some ways it's as modern as Western cites along the coast of California. Regardless, the youth workers don't have access to the training we do in the United States. Frankly, those of us in ministry in the U.S. are spoiled. In fact, there are probably too many conferences in the U.S. We can't even decide which ones to go to (Hmmmmm… which of these 7 conferences should we go to this October?).
Conferences are few and far between in South Africa. I must have heard it twenty times. "This conference is the only opportunity we have to go and get trained."
3. The resource vacuum
The same was true with youth ministry resources. Most the youth workers there struggled to get many of the newest youth ministry books available in the states. First, the exchange rate is horrible for South Africans right now, so the Rand doesn't go far buying U.S. products. Secondly, many of the resources aren't even available. I looked on the South African version of Amazon and only found a handful of my books, where Amazon has 18 of them. It was hard for South African youth workers to get the books they wanted even if they had the money.
That's where our TheSource4YM.com's free resources and free training tools were a huge plus. Anyone with internet had access to the most current resources we add to our web page weekly.
4. Pale by Comparison
Cape Town is uniquely Caucasian for Africa. I knew this going into the trip; I had read the history. But I was still surprised how white the city was as a whole. It was quite a transition for me personally from Kampala to Cape Town.
5. Humility
After four days hanging with over 100 youth workers from around the region, I didn't meet a single person who wasn't excited to learn new things.
Please, don't take this as a "dis" if you're from the U.S. I encounter humble teachable people all the time at U.S. conferences; but sadly, I also encounter a handful of, "I've got this youth ministry thing down!" and "I should be teaching here." Funny, I didn't meet even one in South Africa. Maybe their desperation for resources and training (reflections 2 and 3 above) creates a teachable spirit. I can't pinpoint it. But it was refreshing. It was nice to be in a room where we all felt like we had a lot to learn from each other.
My family and I all felt privileged to be part of the conference.
I look forward to the opportunity to do it again.