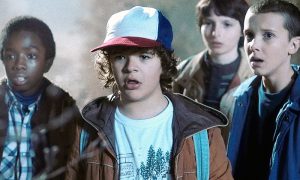 I'm loving this new Netflix Discussion page!
Yeah! Using Stranger Things to discuss Luke Chapter 11. Whodathunkit?
A few months ago we announced a brand new resource on our TheSource4Parents.com page … our brand new Netflix Discussions page. The page gives parents ideas for dialoguing about what they watch with their kids on Netflix.
No, we don't expect moms and dads to sit their kids down and Continue reading "Engaging kids in conversations about "Stranger Things""
Posted in Discussion Ideas, Entertainment Media, Internet, Parenting, TV, Youth Culture | Tags: Bible Study, biblical discussions, curriculum, engaging kids, Netflix, parenting, Stranger Things | Leave A Comment