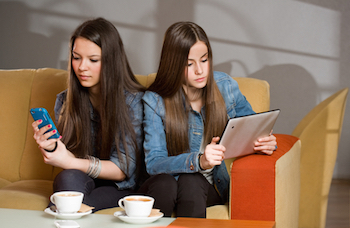 Does the smartphone help communication… or hinder it?
That one of the questions I ask when I'm teaching young people to be smarter than their smartphones.
"Think about it," I suggest. "How many times are you sitting in a circle of your friends and none of them are talking because their heads are all down staring at their phones?"
Students always laugh and point to each other. "That's so you!"
My point is clear: Phones can be really convenient tools helping us communicate with friends outside the room, but they become a hindrance when they interfere with our connection with people inside the room.
Yesterday I finished an article to parents on TheSource4Parents.com about this very subject, an article titled: The Smartphone—Today's Conversation Killer. The article uncovers research revealing some of the symptoms the smartphone generation is experiencing, symptoms like the inability to recognize non-verbal cues, a lack of empathy, and as a result, an actual decrease in close friends.
Fascinating stuff, like evidence that the mere presence of a phone on the table between two people actually changes the degree of connection two people feel.
But don't worry—I don't drop a bomb and then leave parents hanging. I provide three ways parents can not only teach, but model how to connect with people in the room.
Check it out, along with a host of other helpful articles for parents on www.TheSource4Parents.com
JONATHAN IS THE AUTHOR OF OVER A DOZEN BOOKS AND SPEAKS TO PARENTS AND LEADERS WORLDWIDE ABOUT CONNECTING WITH THE SMARTPHONE GENERATION.