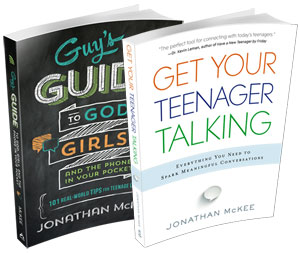 In just a few weeks  you'll see two brand new books from me on the shelves: Get Your Teenagers Talking, and The Guys Guide to God, Girls and the Phone in Your Pocket. (THE GUY'S GUIDE is now available on Kindle)

Would you like to review one of these titles and get a free signed copy? If you would… keep reading.
Here's the skinny. Both of these titles are hitting the shelves in April (although we are offering pre-orders of each on our site right now, and I'm signing all pre-orders). In order to boost Amazon sales, we need readers to post Amazon reviews. Here's how this works:
You email me, using the CONTACT US feature of this blog, and let me know you want in!
You jump on Amazon in the next week or so when the title is released (I'll email you personally and let you know), buy the Kindle edition of either the "Guy's Guide…" or "Get Your Teenager Talking" (either are just $9.99).
Post your review on Amazon as an Amazon shopper who purchased the book.
Email me once your review is posted and I'll either send you the $10, or mail you a copy of the softcover version of the book, personally signed by me to you, thanking you for your review. Your choice.
How's that?
I can only take the first 30 reviewers of each book. So let me know right away.