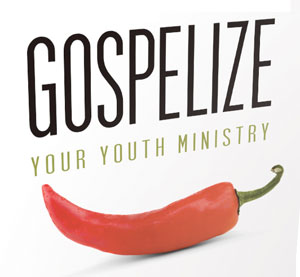 Do you create lifelong disciples who go out and make other disciples?
Think about that for a second. I'm not asking if your kids go to church or wear Christian t-shirts. I'm asking if they get so excited about Jesus that they can't help but tell others about Him.
I know, I know. That sounds so… 2,000 years ago. (Dare I say… the book of Acts?)
Last Saturday my family and I connected with my good friend Greg Stier at the National Youth Workers Convention and we talked about that very subject—Gospelizing your youth ministry, a spicy "new" philosophy (that's 2,000 years old).
We all love Greg, not only because he's hilarious and fun to be around… but because he's the real deal. The guy loves Jesus so much that he ends up getting other people excited about Jesus. In fact, whenever my own teenage girls hang with Greg, they get all excited about sharing their faith with their friends.
Saturday Greg handed me his new book, Gospelize Your Youth Ministry. I had the privilege of previewing this book and writing an endorsement. It's an amazing tool harnessing the 2,000 year-old wisdom of the book of Acts and applying it to present day.
Greg developed the book, and the free app that helps youth ministries create passionate life-long disciples of Christ who can go out and make other disciples.
Greg says it pretty boldly:
"Often times youth leaders tend to think, "Well, if I disciple my students enough, if I give them enough teaching and Sunday school and small group and youth group, then maybe they'll share their faith.
The problem is, usually that doesn't happen.
We like to flip it at Dare 2 Share.
We believe that if your students are involved in sharing the good news of the Gospel of Jesus Christ, they're gonna grow in their faith faster than any curriculum you can take them through."
When is a time when you saw people growing in their faith… and that faith spreading contagiously?
I'm reading the book of Acts on my own right now, and I keep getting this feeling like, "Why don't we do this today?" So Greg's book was so refreshingly timely. I encourage you to take a peek.
CHECK OUT MORE ABOUT GOSPEL ADVANCING MINISTRY HERE
GET GREG'S NEW BOOK, GOSPELIZE YOUR YOUTH MINISTRY HERE