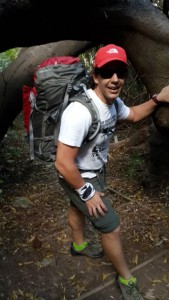 I love hearing youth ministry stories and ideas from youth workers around the world, and yesterday I heard one that really "popped."
We've been in South Africa for 3 days now, playing tourist, hanging out with youth workers, and speaking at a conference here in Cape Town. In that time, I've thoroughly enjoyed getting to know this new "mate" of mine named Vicus.
Vicus has been in youth ministry for a decade, and really has a heart for troubled kids. He's developed such good relationships with schools in the area (coaching and serving the schools) that the schools literally will call him up and say, "We've got a teenager you need to talk with." In fact, certain teenagers have been given a choice: get expelled or spend time with Vicus.
Most kids choose time with Vicus. And this time ends up being pretty therapeutic for these kids.
Vicus puts them to work at a friend's horse ranch. He makes the kids clean stalls first, then clean the horse, clean its hooves… a bunch of labor. Then, they eventually get to help train the horse, starting with leading the horses around, then some riding.
After considerable time of this "Karate Kid" therapy ("Wax on, Wax off"), Vicus sits with the kid and talks with him about life. "In life, you typically have to put in hard work and clean things up before you can reap the benefit. Riding horses is fun, but fun comes after cleaning house."
Vicus isn't afraid to ask honest questions.
"What are some things you need to clean up in your life?"
Kids love Vicus, not just because Vicus looks like a body-builder, surfs, hikes and literally spends his spare time as a rescue worker climbing the face of Table Mountain to save injured and lost hikers. Kids love Vicus because he cares enough to spend time teaching them about real life.
What opportunities do you have to build into young people like this?
What natural life-lessons or object lessons have you seen resonate with today's teenagers?