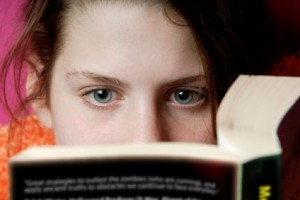 I'm still scratching my head a little bit about this The Zombie Apocalypse Survival Guide for Teenagers we put on the shelves just two month ago. It was difficult to get a Christian publisher to print anything with the word Zombie, but once we did… it's now our top selling book on my site, the Youth Cartel site, and on Amazon.
Youth worker Josh from Kansas just emailed me today about his guys' small group:
I've started my high school guys small group on your The Zombie Apocalypse Survival Guide for Teenagers.  They are ecstatic about it.  I had given them several options for resources for us to go through and they unanimously and rather vocally all wanted "The Zombie Book" as they call it.
From our first night of reading and discussion, the guys were totally into it, loving the story and engaging in discussion. We have one guy who really struggles to open up and share real things about life, and even he was dialoguing with the content and how it related to real life.  The guys look forward to reading and discussing it each week! Thanks a bunch!
 -Josh-
You might expect this from guys. But a girl? Pastor Clint writes:
I just started reading your book last night and thoroughly enjoyed your first chapter. However, I thought the real test for a Zombie Apocalypse book would be my 14 year old daughter who has absolutely no interest in Zombies, but loves God. She finished about a week ago. She was a little skeptical, but said she actually enjoyed it better than other devotional books because there was a story line which held her attention. She was a little exasperated that the ending was a little bit of a cliff hanger! 🙂  To which I told her you might write another one.
If you can take Zombies and captivate my daughter you've hit a home run! Great job sir! Love your blog and the insight you bring!
 -Pastor Clint-
Ha… she's right about the cliffhanger. It's totally set up for a sequel!
But I think my favorite feedback is directly from young people. Here's just a couple responses from young people:
Dear Mr. McKee
Excellent job on your book. Everyone in our class enjoys it, and the questions are great. Who would've thought you could tie Zombies and God together?
There's two things I don't like about it, though. The Chapters aren't long enough and we only get to it once a week.
I understand if it was long it would be too long for discussion. So, I am suggesting you might write a novel with it…? PLEASE?
Other than that, the story is epic . Thank you for your books.
-Graham-
The Zombie Apocalypse Survival Guide for Teenagers could not better! I must admit that when my youth minister first announced our next study, I had my doubts.
What could the Zombie Apocalypse possibly have to do with Jesus? But from the first chapter we read in Sunday School was hooked. Jonathan McKee's straightforward style of writing captured my attention in the first story, and the questions are well-phrased and easily relatable. Tackling such topics such as the divide between teenagers and adults. McKee makes you laugh, while leaving you thinking.
My brother and I lead a small group for teenagers at our home and we are already considering using another of Jonathan McKee's books for the next study.
-Jeff-
Thanks to all of you for the feedback! Great suggestions!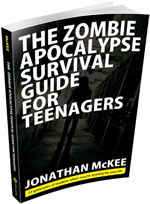 THIS MONTH GET FREE SHIPPING
ON ALL U.S. ORDERS OF
THE ZOMBIE APOCALYPSE SURVIVAL GUIDE
FOR TEENAGERS