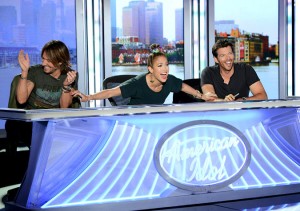 American Idol is still captivating American audiences, and this season the show has brought a new adviser backstage to act as a "life coach" for the young Idol hopefuls… a Christian counselor who has been helping NASCAR drivers since 1999.
Let's be honest, it's not easy to find good clean family programming on that big television screen in our living room. There's Duck Dynasty… and there's… uh… hmmm… hold on… give me a minute and I'm sure I'll think of something!
My family has really liked American Idol over the years, but sadly, at times the show has brought in mentors whose actions were a little questionable– like the time Lady Gaga was featured as a mentor, just before laying down on the Idol stage singing The Edge of Glory while one of her singers literally mounted her in a sexual pose that would have made Madonna blush.
Parents across the county wondered… maybe we shouldn't be watching this show.
I wondered… what kind of mentoring are these young Idol hopefuls getting?
This year, they've turned to a Christian counselor for help. USA Today just wrote a huge spread about Billy Mauldin, President and CEO of Motor Racing Outreach Ministry. Mauldin "was brought in to help Idol hopefuls manage the ups and downs of competition – much like he's been doing for NASCAR drivers since 1999."
It's exciting when you look at the vision statement for Mauldin's ministry:
It is the mission of Motor Racing Outreach to introduce the racing community to a personal faith in Christ, to growth in Christlikeness, and to active involvement in the church through relationships that provide care in times of stress, knowledge of God's word, and assistance in the development of leadership skills.
The idea to bring Mauldin in was from Fox's David Hill, the guy enlisted with the task to overhaul Idol this year facing a ratings decline. Hill noticed many Idol contestants came from faith-based environments and grew up singing in church.
"I couldn't think of anyone better to advise these kids than Billy," Hill told USA Today. "In my mind, NASCAR is the most intense athletic competition in the country because if you make a mistake, you're risking serious injury and death." (USA Today… I encourage you to read the whole article)
Mauldin knows all the contestants aren't of the Christian faith, and USA Today makes it clear that he's not there to "proselytize."
I chuckled when I read that word. I remember having to walk that line for years working in campus ministry, being a positive influence on campus, counseling kids and families, being willing to talk about God when asked… but never to "proselytize."
I'm thrilled to see Idol turning to Mauldin for counsel.
Yes, Idol has been having its ups and downs (last season being a huge down) with ratings, but like it or not, the show is still one of the most popular shows watched by American families each week. Pop on Nielsen's "TopTens" page and check it out for yourself. This week, it was Winter Olympics, then Big Bang Theory then American Idol, with NCIS trailing close behind.
We've watched a few of them as a family this year… now I think we'll be tuning in even more.
How about you? Does Fox's decision to bring in a Christian counselor surprise you?
(ht to Mandisa for the link on your Facebook page– It was good to hear an insider's take on this.)