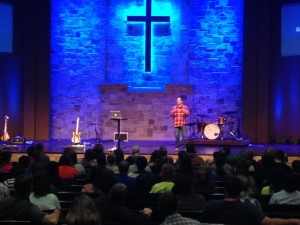 WINNERS NOW POSTED! SEE BELOW.
It's time for my first contest of 2014. I've got some great giveaways for youth workers this week: your choice of any one of my books, OR… a free registration to the Youth Specialties' Team Training event, coming to another 8 cities across the US! (of which I'll be teaching at 3)
Winning is simple. Just use my blog's comment feature in this post to share your best "careless" story in no more than one paragraph. I'll choose three winners at the end of the week: two book winners, and one Team Training registration. But first… let me explain "careless."
Last weekend over 300 Atlanta youth workers gathered together to be trained, encouraged and equipped at one of the YS Team Training events. I had the privilege of teaching several sessions, including the "Keeping Teens Safe" session. I was a little apprehensive going into the training, because, let's be honest—who wants to talk about "safety"? But interestingly enough, I received more positive feedback from that session than anything we did that weekend.
During the session I told multiple stories from my two decades in youth ministry, revealing shortsighted decisions with dire consequences. People really related (I guess I wasn't the only one present who had made foolish decisions). Some of these moments I shared were funny, in hindsight, but other moments, like kids being life-lighted to the hospital in a helicopter… not so funny.
What about you? What decisions have you made in the past, that not only would you do differently, but resulted in unforeseen consequences?
HOW TO ENTER: Use my blog's comment feature to…
Share your full name and your city.
Share what prize you want if you win: which one of my books, or which one of the upcoming Team Training locations you'd like to attend.
Share your one paragraph story (keep it succinct) of a shortsighted or careless decision you made in youth ministry and its unforeseen consequences.
I'll Tweet the winner later this week, and display it in this post!
Thank you for all the entries! My team just selected the winners. Here they are:
TEAM TRAINING PRIZE– Bryan Murawski for his story about almost killing his brother with a goldfish. Yes… probably not a good idea. (That's the second time I've heard of that happening.)
BOOK PRIZE– Nic Ferguson for his simple story about a game gone wrong. He had me at "hard to remove especially with all the cuts and blood and what not."
BOOK PRIZE– Rachel Blom for her story of losing a kid without knowing it and leaving her in the woods to die a horrible death! Yes, headcount is important.
Nic and Rachel- pop on my book page and let me know which you'd like me to send you.
Good lessons learned! Congrats winners!