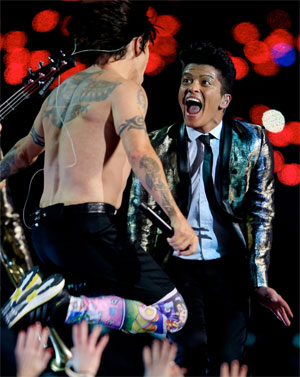 Boring, depressing, a complete blowout… call it what you want, but Sunday's Super Bowl game was the most-watched television show in U.S. history, drawing 111.5 million people on average. That's a lot of people watching the competition between the top two teams, the greatest commercials of the year… and a 12-minute concert that literally changed the music charts.
So, what did families take away from this year's Super Bowl television experience?
Past years' on-screen antics have probably made some parents a little apprehensive about the content of this event that historically has brought friends and families together in one room watching one big screen together. Did this year prove to be the same?
Starting with a bad snap, the day was full of surprises, but the most unexpected element most people found was the void of sexually-charged entertainment throughout the day. This was a pleasant surprise, in a world where most of our top entertainment choices include sexual content, and where almost every movie preview seems to require at least one quick glimpse of a girl moaning in sexual pleasure, assuring viewers of the "eye-candy" and sexual content included with your investment of a movie ticket.
But Super Bowl XLVIII didn't go there.
Pinch yourself; it wasn't a dream. From start to finish, commercials and halftime included, the whole show probably would have been rated a mild PG at worst.
The Commercials
No voluptuous GoDaddy girls, no half dressed girls in beer commercials…  America opted for sentimental, funny, and even Patriotic overall. I'm not alone in my assessment; the ads were cleaner all around this year. From a puppy befriending a Clydesdale (probably my favorite), to a soldier coming home to a cheering crowd of friends and family (a Kleenex grabber), the commercials were good clean fun. Some sites have already started tallying the top 10 ads of the day.
Parents aren't complaining much this year when the raciest ad was a Butterfinger Cups ad that alluded to a threesome (over younger kids' heads). Parents would be relieved if they had seen some of the ads that were actually banned from the game, including a commercial showing a girl moaning as she received oral sex from someone under the sheets.
The Halftime Show
The halftime show was also a step up from previous years. I won't say it was void of sexual content, because the lyrics of several of the songs were pretty provocative, but not many people even noticed that. Bruno Mars' performance overall was fun for all ages and was really well received.
The phenomena I always find intriguing is how much attention the musical artists garner from this event and how that becomes money in their pocket. The musical guests aren't paid for their Super Bowl performances. But don't let that fool you, Mars and the Red Hot Chili Peppers "generated 2.2 million tweets during their 12-minute show," and then came the real perk… the downloads.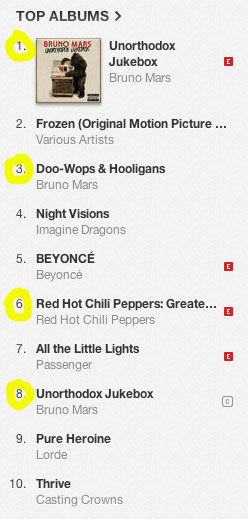 I pulled out my phone the second Bruno Mars took the stage. His songs were nowhere to be found on iTunes.
Jump on iTunes now.
Just 24 hour later, Bruno's album, Unorthodox Jukebox rested at No. 1 on the iTunes charts. His album Doo-Wops & Hooligans sat at No. 3. The Chili Peppers also rose to iTunes top 10 album downloads.
This phenomena isn't unique to the Super Bowl. Watch the iTunes charts after any episode of The Voice or American Idol. TV affects the music charts.
It's intriguing to see an event like this where TV screen, Twitter, and iTunes all collide, as young people absorb hours upon hours of entertainment media each day.
So what about you?
What did you notice about this year's Super Bowl?