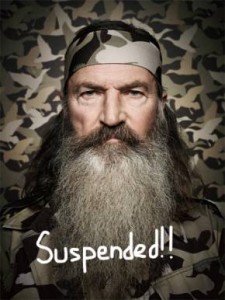 "I am sending you out like sheep among wolves. Therefore be as shrewd as snakes and as innocent as doves." -Matthew 10:16
This week Phil Robertson was suspended "indefinitely" after "disparaging gays as sinners" in his GQ interview.
Yes, it's true. America has definitely evolved into a country where anyone who speaks their mind against homosexual behavior will be blacklisted. Just ask Victoria Jackson, or Blake Shelton… or Chick filA.
But let's not be daft. We know better than this.
No, I'm not talking about changing our theology (I have clearly shared my own two cents on the gay issue), I'm talking about changing our methodology.
Jesus tells us to be shrewd and innocent (Matthew 10:16). Paul tells us that if we lack love, we're a resounding gong and clanging symbol (I Corinthians 13). Jesus tells us to stop looking at the speck of sawdust in our brother's eye when we have a plank in our own eye (Matthew 7:3).
So how does this apply to Phil Robertson?
Phil was asked, "What, in your mind, is sinful?" He responded:
"Start with homosexual behavior and just morph out from there. Bestiality, sleeping around with this woman and that woman and that woman and those men," he says. Then he paraphrases Corinthians: "Don't be deceived. Neither the adulterers, the idolaters, the male prostitutes, the homosexual offenders, the greedy, the drunkards, the slanderers, the swindlers—they won't inherit the kingdom of God. Don't deceive yourself. It's not right." –GQ Magazine
I don't think it's wrong for Phil to personally object to homosexual behavior. The question is, how could he have better answered the question, "What, in your mind, is sinful?"
What if Phil would have responded, "My own pride. Selfishness. Gossip. Greed. Condescending others…" He could go on. "All of these are pitfalls of when we try to live our life our way instead of God's way. They are all sin."
Did he need to target the homosexuals?
How many times did we see Jesus target a certain group of sinners? Oh wait… he did. He targeted the self-righteous.
Whoops!
How do I think Jesus would have responded to someone who is participating in homosexual behavior? How did he respond to the very promiscuous woman at the well (John 4)? How did he respond to the greedy and thieving Zachaeus (Luke 19)? How did he respond to the woman caught in adultery (John 8)?
And what if he told a homosexual, "Go and sin no more"?
Then Jesus probably would have been kicked off of A&E. And so what? Blessed are those who are persecuted for their righteousness (Matthew 5: 10).
Let's just make sure if we are persecuted, we have made every effort to show the love of Jesus and respond to sinners the way Jesus did, never changing his theology, but going to great lengths to love and accept the worst of sinners.
He accepted us, didn't he?