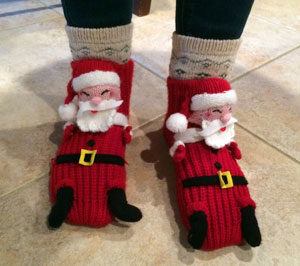 Most people love Christmas, but in my house, Ashley LOVES Christmas… sometimes a little too much!
I know, I know… how could someone love it too much?
If you lived in my house in late November through the New Year, you would not meet that cute 16-year-old girl we all love named Ashley. Instead, you'd meet Lieutenant Colonel Christmas, who requires everything… just so.
The day after Thanksgiving, the Colonel arrives. She starts tossing pumpkins in the garbage can and pulling out the Christmas decorations. "When are we going to decorate? Huh? When? WHEN? We all have to decorate the house as a family!"
The rest of us aren't Grinches… we just aren't Clark Griswold!
This year I put the tree up while Lori and Alyssa hung the garland on our stairway. Ashley asked if we could hang the outside lights next. I suggested, "Sure. You and I hang the lights while Alyssa and Mom start on the tree."
"What!" She protested. "They can't do the tree until we're done with the lights. We do the tree together!"
This is what it's like when you live with Lieutenant Colonel Christmas.
As much as it's irritating to be ordered around by the Colonel on decoration day, I don't think we'd have it any other way. Ashley's love for this season is really fun. From the ugly Christmas socks and sweaters that I can't believe she dares to wear at school (yes, she actually wore those Santa slippers to school), to the nonstop Christmas music coming from every speaker in the house every moment of the day… Ashley's all about the holiday.
So am I.
Just please don't play Bing Crosby to me after January 1!!!